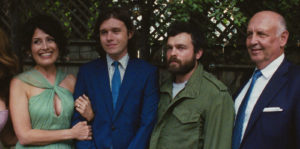 Actor Alden Ehrenreich makes his directorial debut with Shadow Brother Sunday, a 14-minute short film about two brothers, one of whom is a successful actor, and the other is a struggling musician. The drama starts, and all you hear is overlapping chatter cranked up to 11. And then comes the first shot of Cole (Ehrenreich) drinking a beer while standing alone amid a room packed with family and friends. Boasting a glazed expression and wearing a wrinkled jacket on top of a flannel, he looks awfully uninterested and underdressed compared to everyone else.
Seconds later, Cole's mom (Lisa Edelstein) enters the kitchen and urges people to watch the TV. Cole's younger brother, Jacob (Nick Robinson), is being interviewed about his performance in a movie. During the interview, Jacob praises the cast. "We really became like a family," Jacob says while Cole looks contemptuous, indicating their strained relationship.
Cole goes outside to take a phone call. As it turns out, Cole, strapped for cash, has put it out there that he has access to a celebrity's private computer and is willing to sell it. Of course, that computer is his brother's and is worth a decent amount. Brian McOmber's tense score, characterized by irregular, cacophonous beats, builds during this moment but then comes to a halt once Cole has a one-on-one with Jacob. Suffice it to say, the sibling tension remains.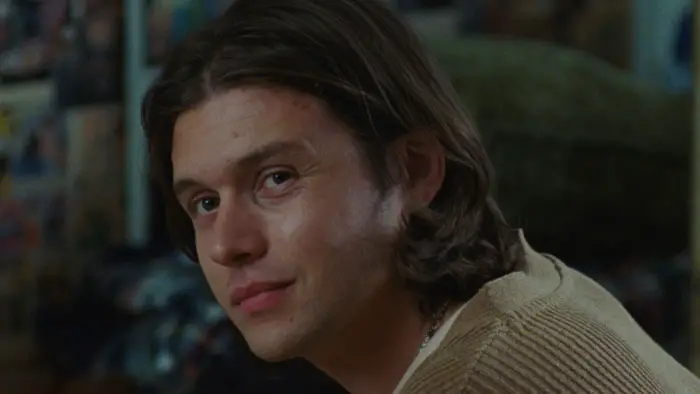 "…two brothers, one of whom is a successful actor, and the other is a struggling musician."
Ehrenreich brilliantly infuses every obstacle and interaction the characters encounter with a feeling of apprehension. During the theft, Cole is interrupted by family and friends at every turn. Using heightened sound design, Shadow Brother Sunday turns these interruptions into something nerve-racking and cringe-inducing. How the filmmaker imbues the homely environment with so much familial unease is reminiscent of Emma Seligman's Shiva Baby, which is a big compliment.
For the majority of the runtime, the short is an uncomfortably gripping experience as Cole is propelled from one room and heated exchange to another. The most notable is a tumultuous moment on the lawn as family photos are taken, and the photographer forces a smile out of the reluctant musician. Through all the excellently conceived chaos, Ehrenreich explores the bond between the brothers and how certain cracks and a distance formed due to some kind of misunderstanding.
Ehrenreich is in great form here as the uncombed, agitated, and slightly jealous brother. He knows how to express silent rage and sorrow with just his eyes. Cole feels like a real person caught under so much negativity. Robinson is playing somebody with fame and success. But in the first scene with his on-screen brother, the actor alludes to his character's discontent with a feigned chuckle and a few telling pauses between words. Both of them give phenomenal performances.
Shadow Brother Sunday is a highly effective and surprisingly emotional short about two brothers unwilling to communicate authentically. However, sometimes the truth comes out in the most unexpected ways, and you can rebuild from there. Superbly written and dynamically directed, coupled with an ending that almost made me shed a tear, this is a promising start for Ehrenreich as a filmmaker.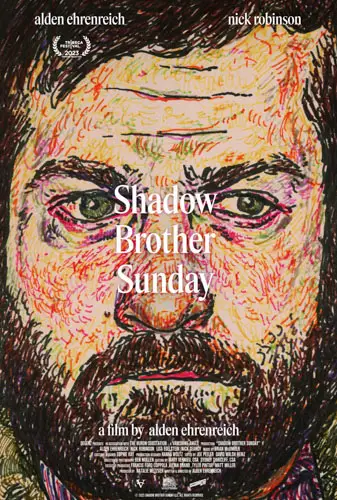 "…highly effective and surprisingly emotional..."