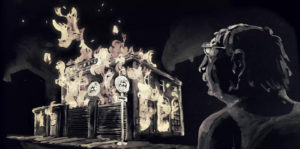 You would think that Jared and Jerusha Hess, the directing duo of off-kilter cult classics like Napoleon Dynamite and Nacho Libre, would jump at the opportunity to demonstrate just how much of their trademark "outcast humor" sensibility they can pack into 12 minutes of screentime. Instead, somewhat unexpectedly, their short film Ninety-Five Senses, written by Chris Bowman and Hubbel Palmer, showcases the directors' lyrical, mature, poetic, existential side. The fact that it's animated in bold, beautiful brushstrokes only enhances the experience.
From the first few seconds, the narrative captivates with its profundity. An old man, Coy (Tim Blake Nelson), doesn't have long left, so he's recollecting his life through the prism of the titular five senses. For example, he describes the smell of a video rental place or the sound of a sawmill. He throws in commentary on things like the current generation and life in prison, and there are unexpected twists, such as the fire he sets to a building after getting, um, fired.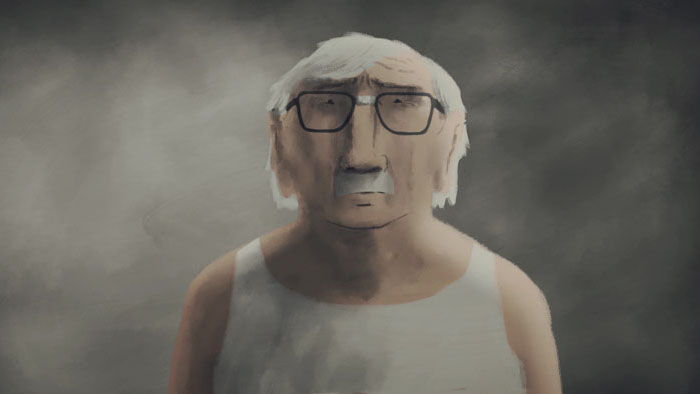 "…recollecting his life through the prism of the titular five senses."
Nelson adds much-needed gravitas to the proceedings, not to mention a tongue-in-cheek sense of humor that comes hand-in-hand with his Southern drawl. "You know what I read the other day?" he intones. "Cellphones are changing the shape of our eyeballs." One can almost see the actor grinning, shaking his head in bewilderment, and gesturing as he narrates eloquently.
The animation throughout Ninety-Five Senses is spare and minimalist, accentuating what matters the most. In a few outlines, the artists capture the essence of Coy's narration. The man's life has been epic, and the visual style matches the scope of the themes on display. Things morph effortlessly from the abstract into the highly detailed, complemented by composer John Hancock's gentle score. The film is the rare visual and aural symphony.
"Every morning, our eyelids peel back to let in the sunlight, like the petals of a daisy opening at dawn." Coy's narration sends a euphoric wave that reverberates through the viewer's five senses. Ninety-Five Senses is a deeply inspirational, wise, beautifully-animated piece of art. Here's hoping it's a sign of things to come from the notorious helmers.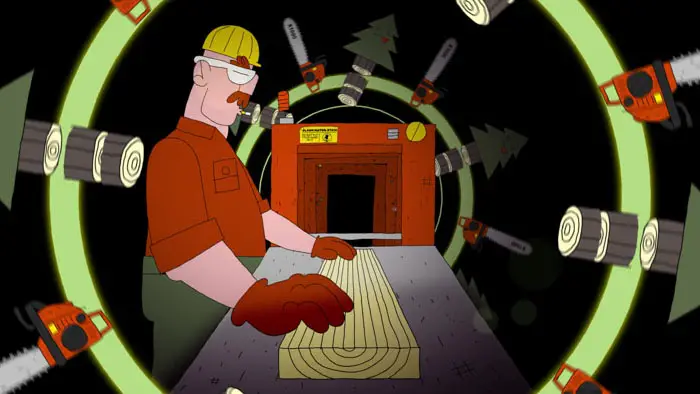 "…the rare visual and aural symphony."