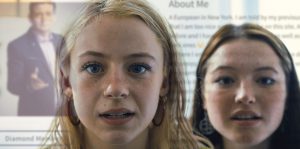 SUNDANCE FILM FESTIVAL 2021 REVIEW! We live in a digitized society, an abbreviated culture. Three decades ago–before the creation of Match.com–it would've been inconceivable to find your life partner online just by clicking on several photos of a stranger. Even after dating sites took off, a hint of shame accompanied the disclosure of finding true love on the world wide web. As Pacho Velez's warm but a tad rudimentary documentary Searchers demonstrates, online dating has long since become the norm.
Shot during the dark days of the COVID-19 pandemic, the narrative is mostly delegated to talking heads. Instead of sociologists and theorists waxing poetic about the implications of online dating, Velez interviews his fellow New Yorkers–gay, straight, young, old, all of varying skin tones and body types–about what it is they're looking for when swiping left or right. "Have you had an experience online that you would call good?" the filmmaker asks one of his subjects. "No," comes the immediate response.
The majority of the narrative is dedicated to said New Yorkers clicking through other people's profiles, creating their own, or responding to chat messages. Velez places the camera in front of their faces, so they're looking directly at us, and we hence catch every nuance of their reactions. "Oh my God, this is so judgy," another young man says. "I feel very judgy all of a sudden."
"…Velez interviews his fellow New Yorkers…about what it is they're looking for when swiping left or right."
The filmmaker touches upon something here that could have used further exploration. How can we judge a human being by some photos and a sentence? Velez himself fills out a profile, displaying how a site reduces one's identity to a few brief descriptions and algorithms. I wish he delved deeper into that "swipe left/ right" mentality, as well as the perils of online dating. "The app gives you such a fake sense of security," says a man who's been assaulted by someone he met online. Once you actually meet the real person, "they're no longer that image" projected onto your screens.
The director spends a lot of time filming his subjects, contemplating vocally, eyebrows furrowed, murmuring "Ummm" into the camera. Not only does that render it repetitive, but it also makes the 80-minute runtime feel protracted. If online dating resembles flipping through a magazine, then so does Searchers – some folks are more compelling than others, a few are quite witty, and one or two come off as overly judgmental. I particularly liked a young man in a flowery shirt and his female friend, whose sunny disposition is the highpoint and who subtly turn the interview around and start asking Velez questions.
If the notion of watching folks fill out dating profiles while sharing thoughts on contemporary dating entices you, then Searchers will surely hit the spot. It's genuinely well-meaning. "There's nothing like actual human connection," Velez ultimately seems to say, and that's a sweet statement, indeed. Perhaps most effectively, his film functions as a document of a specific time, plagued by a pandemic, with folks looking for love but distanced from each other, half of their faces covered in masks. When you can't see a person smile, much less approach them in person, the internet assumes the role of Cupid.
Searchers screened at the 2021 Sundance Film Festival.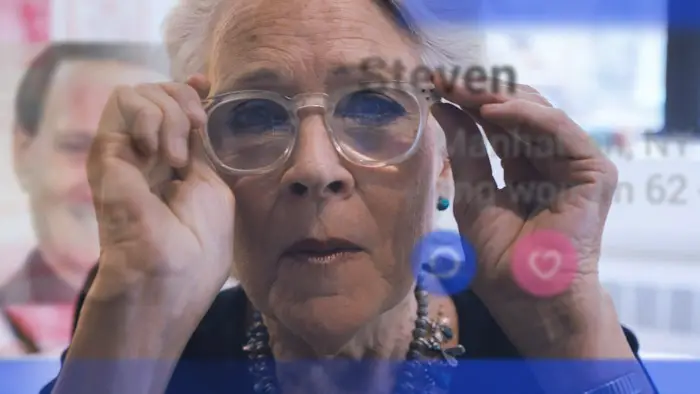 "…it's genuinely well-meaning..."