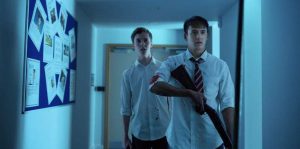 Despite being rebellious and living in a world where survival is of the utmost importance, Lee still adheres to a moral standard, desperately trying to refrain from violence. Mac, though, is not above violence, therefore making his presence all the more worrisome. As an armed parish loiters outside the school's walls determined to retrieve a prisoner, Mac is set on fighting back. Lee soon realizes that all efforts for a peaceful resolution are unavailing, and a bloody, grotesque battle ensues. The action, while set up nicely and paced quickly, is occasionally grimy but gripping nonetheless.
Originally inspired by the quirky humor of Shaun of the Dead but then going on to take scenarios from Lord of the Flies and Battle Royale, School's Out Forever is not exactly innovative in theory or approach. The abrupt tonal shifts disrupt the flow of the story, consequently undervaluing the social commentary at the core of this horror satire with unsightly violence, which fully saturates the second half. While the action is brazenly graphic and enjoyably absurd, there is not a substantial balance between the bloodshed and the commentary; the savagery overpowers without taking the time to weigh the consequences. Even so, Milburn mocks the moralizing done by academic institutions and the parish council by showcasing the perspectives of privileged students, bumptious countryside folk, and Lee's grappling with both views. If only Lee had more time to ponder.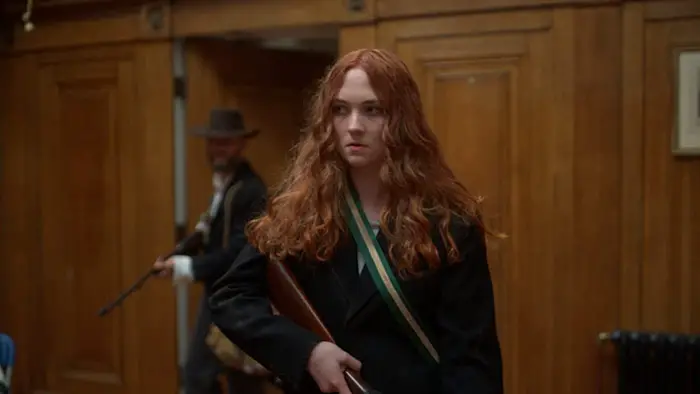 "…wickedly entertaining and shamelessly brutal…"
It is conceptually interesting in and of itself that the students at the boarding school are privileged—that is, everyone but Lee, who was accepted on a scholarship. Halfway through, he goes on a rant against the "…empty mansions that just sit here doing nothing." That is about as scathing as a critique on social class as anything else the film offers regarding class division.
Luckily a marvelous cast brings charisma to their roles. Oscar Kennedy gives a solid lead performance, cautiously defiant but still personable. Liam Lau Fernandez plays Mac with a curious hostility complemented by a necessary aura of pomposity. The young cast is convincing, but the adults, including an eerily calm Samantha Bond, are subtly more impactful.
Oliver Milburn may neglect more developed commentary and a firmer control over tone, but under his fast-paced direction, School's Out Forever is wickedly entertaining and shamelessly brutal, elevated by a magnetic cast and an ostentatious desire to shock and repulse with startling ease.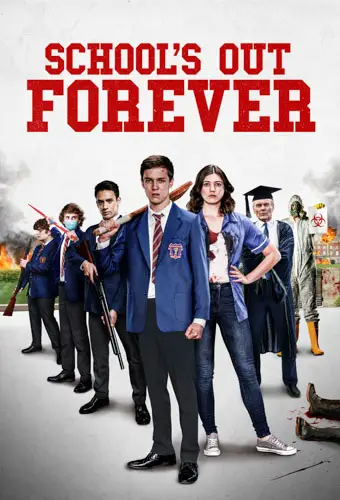 "…mocks the moralizing done by academic institutions..."