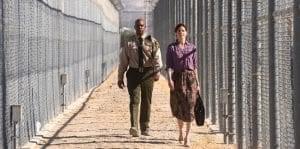 In 2003, Judy Wood (Michelle Monaghan) radically makes a name for herself as a passionate and well-respected immigration lawyer. When her new boss Ray Hernandez (Alfred Molina) insists she can't save them all and should coast through their cases, Judy takes a stand and champions those who have been discarded by a flawed system. When all hope seems lost, persecuted immigrants seeking asylum turn to Saint Judy for a miracle.  
Soon, Judy would pull a file that ends up changing countless lives. She meets with Asefa (Leem Lubany), a woman who was arrested, beaten and raped by the Taliban, because she wanted to educate young girls, teaching them how to read and think for themselves. While detained in America, Asefa has been heavily sedated. In an attempt to treat her PTSD, she has been stripped of her intellect and voice. The sight of her broken spirit springs Judy into action.
"When all hope seems lost, persecuted immigrants seeking asylum turn to Saint Judy for a miracle…"
When Hernandez doesn't support Judy's endeavor, she opens up her own office. She has friends, new acquaintances and prospective clients spread the word about her efforts. Judy fights for them until justice is served. It isn't easy and her dedication to clients comes with sacrifices, primarily in the form of an ex-husband (Peter Krause).
As Judy argues Asefa's case, we learn that persecution towards women is not protected under laws of asylum because women are not a minority. A woman cannot seek refuge in America just because females are treated horribly in her country. There must be a political reason attached. It is unbelievably upsetting. Yet, we find solace in Judy's unyielding and successful efforts which offer hope to those who seek safety in America.
A charismatic cast makes it easy for viewers to become invested in the well-meaning characters who rally around Judy and Asefa. Even Molina's Hernandez is not a bad guy, he's just someone who gave up on the good fight.
Although the pace lags at times and the narrative is a bit cliched, Saint Judy reminds us what America represents to the world. This timely and inspiring film instills faith in justice and human decency.
Saint Judy (2019) Directed by Sean Hanish. Written by Dmitry Portnoy. Starring Michelle Monaghan, Leem Lubany, Common, Alfred Molina, Alfre Woodard, Ben Schnetzer, Aimee Garcia, Peter Krause, Mykelti Williamson.
8 out of 10 stars