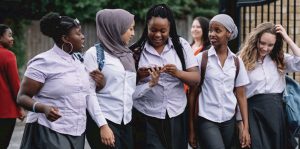 The film can be seen as a modern take on a sad yet inspiring journey of orphans of sorts, a bit like last year masterpiece Capernaum by Nadine Labaki – granted less "dramatic"! But the closest things to Rocks might be films like Houda Benyamina's Divines, or, more particularly, another woman-helmed film, Céline Sciamma's Girlhood. The two films, focused on a tight-knit group of teenage girls, are very similar in the themes they choose to explore (sisterhood or friendship), their approaches to them, and some heartfelt black/brown girl magic vibes. Likewise, we can observe true magical moments between the friends living their best teen lives despite their circumstances. We clearly get the feeling that these youngsters already know and understand the pressure of society, womanhood, or simply adulthood.
Nonetheless, Rocks is a much more grounded and less lyrical film than the aforementioned French film. It is more in the vein of other contemporary British social-realist projects, with a majority of the cast being non-professional actors. This fantastic cast by Lucy Pardee (who was also the casting director on another similar brilliant teen-focused film – by yet another female director – Andrea Arnold's American Honey) was found after many months of extensive workshops with groups of girls in schools. As a result, each and every single performance is ultra authentic and have this rawness quality. Simultaneously, these workshops were where the script, with its very inclusive story, was polished through a collaborative process. The solid script was further elevated thanks to the realistic dialogue that was, or felt like it was, mostly improvised. Thus the chemistry between the girls is phenomenal as well, and it helps that many scenes are shot as if we see through their phones, thus making us see things through their perspectives.
Another impressive aspect of the film is the realistic relationship portrayal between the brother and sister. One will not be wrong to say that D'angelou's screen-debut as Emmanuel with his pure soul was a highlight and a warm ray of sunshine.
On the other hand, one must admit that, at times, the film can appear chaotic, possibly mirroring the events unfolding in the teenager's life, with weird pace switches, radical tone changes, abrupt edits. Additionally, there was a stark contrast between the roughness of phone footage and few scenes making the film resemble a slower, more contemplative, or poetic social-realist feature.
"Its moments of joy and laughter where the girls are just being girls, dancing, or bonding…"
The later, or more "conventional" aspect, was uplifted by very a fitting soundtrack of Afro-beat flavor that added to the realism. The film equally benefited from the music as part of its score, as it did from whatever the characters were listening to, creating its singular mood. It was also made more enjoyable or entertaining, thanks to the freshness of all the various, not only musical references but pop-culture references.
Rocks is set in East-London, and although we often see in the background the capital as "most people not from London know it" with its tall landmark buildings and fanciness, the film transpires as much of a love letter to the city multicultural residents, as it is to this part of the town. It is "the other real London" that we don't often get to see onscreen, and it is a shame because there are so many interesting stories waiting to be told like Rocks' one.
Alternatively, Rocks uses this setting to surf on the notion of community in the city in a very emotional manner, by showing that sometimes, it indeed takes a village to raise a child. We can see this as many characters from all walks of life are happy to help Rocks and Emmanuel whether it is a friend's Russian step-mother temporarily baby-sitting Emmanuel in her hair-salon, or a working-class Somalian immigrant family inviting them to party with them a traditional intimist wedding, or a well-off white family willing to hide them and offering them food or shelter for a night.
Rocks is a film that accomplishes to be very fun and profound at the same time. Its moments of joy and laughter where the girls are just being girls, dancing, or bonding to the tune of a very "London" soundtrack are contagious, and it will make you happy for them. But, at the same time, Rocks' moments of brutal realism depicting the seriousness of its protagonist's real-life drama will hit you hard or make you wonder why life is so unfair.
Rocks screened at the 2019 AFI Fest.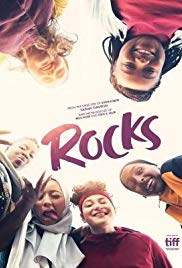 "…a modern take on a sad yet inspiring journey of orphans of sorts..."