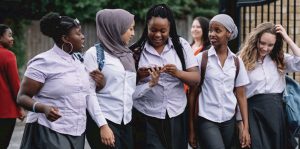 Rocks is a British film with a powerful coming-of-age story about adolescent girls and female friendship, among other themes. Its cast consists mainly of young women from various backgrounds. Thus, it makes sense that all prominent behind-the-scenes crew members were women, and it was spearheaded by a trio of them: director Sarah Gavron (of the 2015 Suffragette), and writers Theresa Ikoko and Claire Wilson. The film follows its eponymous protagonist, a 15-year-old nicknamed Rocks (Bukky Bakray), living in London with her single mum and her sweetheart of a younger brother Emmanuel (D'angelou Osei Kissiedu).
Rocks is always surrounded by a very fun and diverse group of girls that includes her childhood best friend Sumaya (Kosar Ali). When they are not in school, the band spends their day hanging on rooftops of their council estate building ("the projects" for Americans) and supporting each other. One afternoon, Rocks comes home to a note from her mum telling her she went away to "clear her head." We will learn that it is not the first time the mother has let her children alone, as she is suffering from mental illness.
However, what should have been an absence of a few days at most became longer. If, at first, Rocks was in some sort of denial, always reassuring Emmanuel by telling him 'you know mum is coming back,' Rocks starts being a bit worried. After a while, even the innocent kid gets a sense that his sister is not so sure about what is happening to their parent. The issue becomes apparent during a phone conversation with her grandmother in Nigeria. The elderly relative is depressed or overwhelmed by the family situation, and, in a revelatory manner, she tells her grandchild that 'not every woman can nurture a child or is cut out for motherhood.' Rocks' mum is one of them, but it turns out that Rocks herself will show some heartwarming maternal instinct.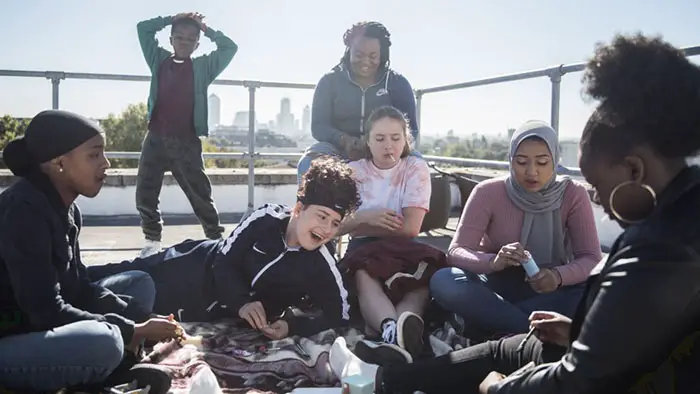 "…forced to grow-up by taking care of Emmanuel, and she shows great maturity, making sure they both go to school, get fed, or sleep on time."
In a way, she is forced to grow-up by taking care of Emmanuel, and she shows great maturity, making sure they both go to school, get fed, or sleep on time. Sadly, things get dark for the sibling once they run out of electricity money and social services start snooping around. In doubt, the pair will have to hide or run away from any adult figures, may it be teachers, nosey-yet-well-meaning neighbors, friend's parents, or any kind of authority. As their situation becomes dire, more dangerous and precarious, Rocks will also start to isolate herself from her friends, even Sumaya. Everybody is trying to help, but Rocks knows that without a mother and a dead father, they will be placed in foster care, and worse, be separated.
Rocks might be a nice girl, but it does not help that she has a hot-tempered and sometimes angry teenager. Though fortunately, she has her head on her shoulders, and she ultimately knows what is best for her or Emmanuel.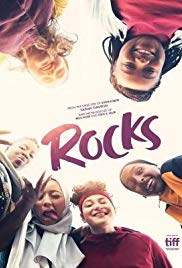 "…a modern take on a sad yet inspiring journey of orphans of sorts..."