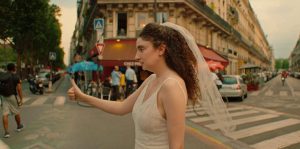 TRIBECA FILM FESTIVAL 2021 REVIEW! Roaring 20's (a.k.a. Années 20) marks the sophomore narrative film of director Elisabeth Volger. She's working from a screenplay she and Joris Avodo, François Mark, and Noémie Schmidt wrote. The dramatic comedy isn't so much a story as it is, a la Slacker, a series of vignettes of people the audience follows after they cross paths with previous main characters. The twist, for lack of a better term, here is that the film is one long, single, unbroken shot for its entire 85-minute runtime.
While there isn't a plot, some of the people observed include a bride who is skipping her wedding, a nurse describing the trauma of her workplace, and a man trying to convince his friend not to quit his job. The joy in witnessing all 20+ protagonists on their journey lies within the realistic dialogue that language barriers be damned anyone can relate to. The actors are all sublime, establishing their characters and their relationships to the others on screen in a matter of seconds through controlled body language and excellent recitation of lines. Also, there's a musical number an hour or so in that is mind-blowing to witness.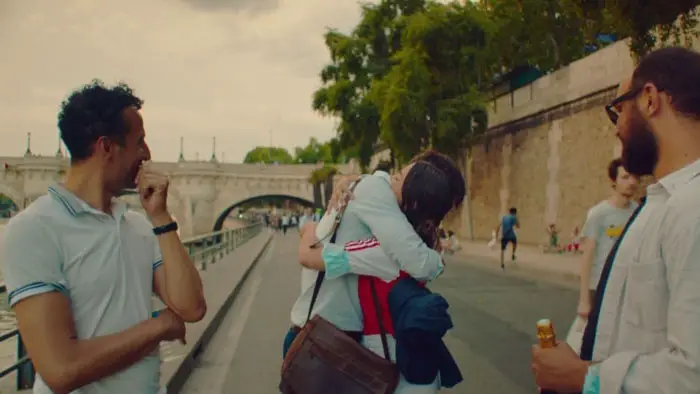 "…a series of vignettes of people the audience follows after they cross paths with previous main characters."
It is important to note that Roaring 20's is set in the modern day. That is to say, a Paris, France that is just reawakening from the horrid closures and total upending of life that is COVID-19. While never named dropped in any fashion, it is felt and seen in how people put masks on to ride the subway or in hearing the aforementioned nurse air her grievances with work. There's a certain energy given to the proceedings once one realizes that this is the start of people venturing back out. A refreshing atmosphere of joy is present in every moment.
But, really, viewers venture into Roaring 20's for one reason and one reason only: Volger's style. Bear in mind that this isn't a static camera that the actors walk in front of, act out their scene, and then stroll out of view via the opposite side. No, the camera is arguably the most important character of the film, as it is alive, bursting with kinetic energy, eager to allow audience members to experience the beauty of every nook and cranny of its beloved city, Paris. While the unbroken shot might feel like a gimmick to some, the filmmaker brilliantly uses it to weave a living tapestry that all can relate to,
Roaring 20's is superb, elegant, and jaw-dropping. The large cast is great, and the subtle and naturalistic writing engages viewers swiftly. But what makes the slice-of-life narrative one of the best titles of the year is its style. Vulgar deserves all the praise and accolades she'll undoubtedly receive for helming such an uplifting and audacious feature. It is practically perfect in every way.
Roaring 20's screened at the 2021 Tribeca Film Festival.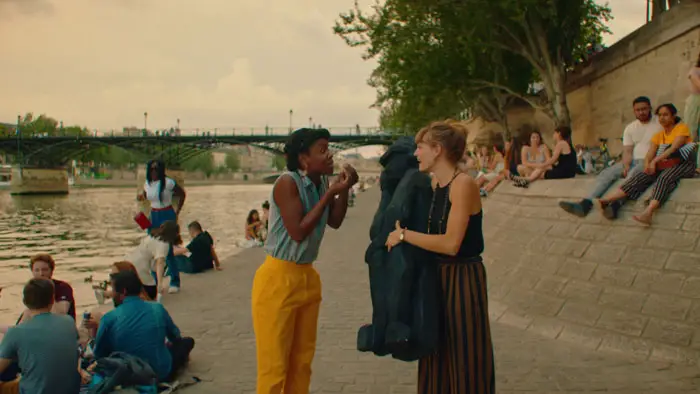 "…superb, elegant, and jaw-dropping..."