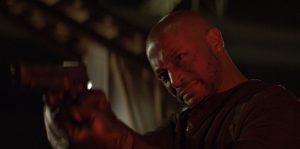 When a judge's son is killed in an unjustified police officer killing, Judge Charles Coleman (Taye Diggs) becomes conflicted in trying to get justice for his deceased son from the same men he works with. Charles goes after those that are responsible with the help from a veteran detective (John Cusack) and another father (George Lopez) mourning his son's murder.
River Runs Red covers a very serious issue going on in America which is officer brutality and shooting deaths of unarmed victims. The film takes the controversial subject and turns it into a dramatic thriller, one that feels like two different films.
For the first two acts of the film, the story is heavy on set up. It's filled with dramatics and conflicts with just about every character in the film. After Charles's son gets killed by two officers, his relationship with his wife begins to crumble under the stress of finding justice. Charles is then forced to choose between his family or his career of being a judge. When Charles chooses his family, his co-workers go against him by attempting to cover up the murder.
"…a judge's son is killed in an unjustified police officer killing…"
Charles has a couple of run-ins with the mayor (Jou Jou Papailler), and these run-ins feel cheesy. On two different occasions, Charles confronts the mayor in which things get a little heated. After both confrontations, Charles leaves the room, and the mayor will say something a villain from an 80s flick would say. While I'm on the subject of cheesiness, there are a couple more scenes that were almost just as cringe-worthy.