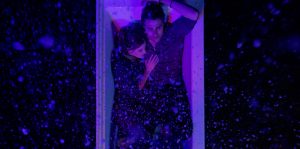 Written, directed, edited, and shot by Rob Willey, River Road is an indie thriller about the perils of drug addiction. While it doesn't necessarily add to the discourse on drug addiction, the movie manages to find a pulse due to its fusion of ill-fated romance and escalating turpitude at the hands of compelling characters.
Travis (Cody Kearsley) is a rock musician from Vancouver. He's the guitarist for a band that recently concluded their U.S. tour. He hopes to decompress at a lake house in Delta, British Columbia, alongside his best friend Cole (Primo Allon). Travis has a pretty strict routine and diet: he eats healthy, does yoga, and writes song lyrics at a specific spot near the lake. That is where he runs into the relentlessly caustic, spirited Zoe (Lexi Redman). They participate in repartee and ignite a chemistry that intrigues Travis, who goes as far as to invite her to a party he's hosting.
Initially, Travis doesn't want to throw a huge party, but things don't go as planned as his place is overrun with people and drugs. One of those guests is Zoe, who makes quite the impression on Travis' friends Katie (Melanie Rose Wilson) and Jason (Rob Willey). Throughout the night, Travis and Zoe connect on a deeper level, and in the course of doing cocaine, they accidentally snort heroin. In the party's aftermath, Travis continues his relationship with Zoe while simultaneously feeding his newfound addiction.
River Road opens in medias res, with Travis robbing a gas station as he narrates how he got here. As he so bluntly puts it, "Things didn't get bad until I started doing heroin… with her." The movie documents Travis speaking to his sponsor (Aaron Pearl) about the illicit stuff he did to support his heroin addiction. His actions are temptingly questionable, no doubt, but the frequent back-and-forth between past and present is not necessary on a storytelling level.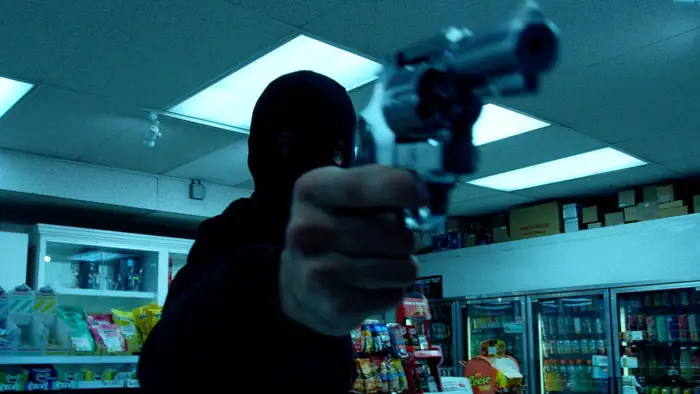 "…things don't go as planned as Travis finds his place overrun with people and drugs."
Kearsley plays a solid leading man. As his addiction worsens, Kearsley steadily becomes more convincing as a man physically and mentally deteriorating because of his urge to capture the transcendent feeling he got when he first took heroin. When in reality, that feeling will never return. Redman's performance is a little strained, but she grows into the character as her reality becomes bleaker. Kearsley and Redman have chemistry, but their moments of hostility are far more captivating than their moments of affection.
As DOP and editor, Willey regularly employs low-key lighting, overhead shots, slow motion, and smooth scene transitions. There is a lot of craft present, and it is hard not to be engaged by that alone. However, the relationship between Travis and Zoe is not wholly developed. It doesn't help that the one scene that expands on their rough childhoods is terribly synthetic. With that said, the consistent synth-centric score elevates their gradual descent into drug-induced mayhem. During the beginning of their descent, Travis meets ruthless drug dealer Fresno, played by an exceptional Steven Roberts, who is the clear standout amongst the cast.
As Travis and Zoe become desperate for their next fix, they begin stealing. But a ludicrous final-act reveal changes everything, at least that's what I thought. However, the unexpected reveal doesn't really add anything valuable to the central relationship. The reveal is skimmed over and not treated as solemnly and thoroughly as it should. Instead, the final act enters formulaic thriller territory with a prolonged chase, erratic gunfire, and an engineered fistfight that cannot be taken seriously.
While River Road meanders down the wrong path, the strong performances and the gloomy atmosphere kindled by Willey's technical prowess render this forbidding, low-budget thriller an enjoyable ride.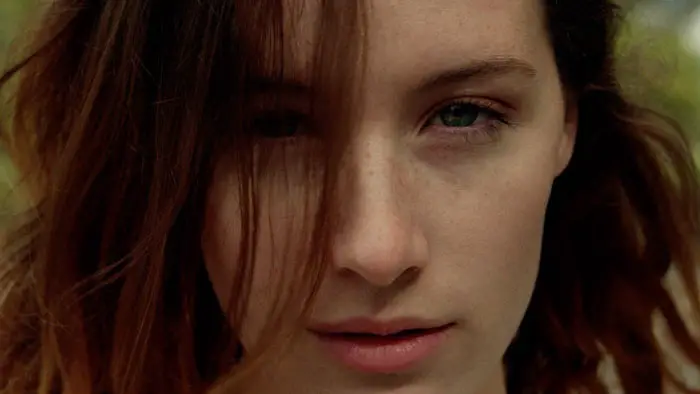 "…technical prowess render this forbidding, low-budget thriller an enjoyable ride."