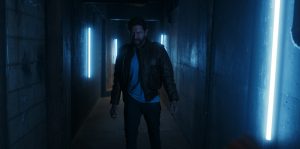 I've noticed that in movies, we like our law enforcement protagonists to have the worst childhood traumas possible. It's a way of establishing a character's moral desire to seek justice while giving them some personal conflict to work through. But if you think about it, this trauma disqualifies them for the job in real life. For example, in director Maria Gabriela Cardenas' A Dark Foe, one physiologically messed-up FBI agent must confront his past while pursuing a heinous serial killer.
Our hero is FBI agent Tony Cruz (Oscar Cardenas). He is hunting a serial killer, who kidnaps prostitutes, scalps them, and removes their skin. During the bust of a nightclub/brothel, Cruz risks everyone's safety when his nyctophobia (fear of the dark) kicks in and forces him into the fetal position. But, of course, after seeing a therapist (Selma Blair), this irrational fear is not enough to pull him off the case.
As Cruz immerses himself deeper into the case, his past begins to haunt him—a past that involves the brutal murder of his mother (which he witnessed as a boy) by a killer, who also kidnapped his sister, never to be seen again. So how did this guy become a fed? Aren't there psychological tests to take before being given a badge and gun?
Back to the case. A lead clue uncovered by Cruz's partner Rocco (Bill Bellamy) has him going undercover as a driver for a billionaire's wife, Rebecca (Kenzie Dalton). Her phone number appeared on one of the fileted victims' cellphone, and after drugging Cruz, Rebecca runs off to a dark dungeon. We discover she's involved in supplying girls to a human trafficker in hopes that she will earn enough money to gain her sister's freedom from the trafficker. But, if the pit of depravity couldn't get any deeper, beneath the dungeon holds an even darker secret.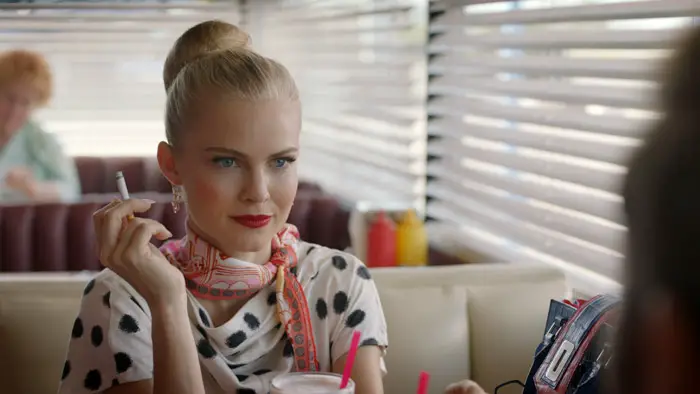 "…hunting a serial killer, who kidnaps prostitutes, scalps them, and removes their skin."
There's a lot of craziness swirling around A Dark Foe. If you're a fan of B-Movie horror, then you'll find fun here. The main villain, played by Graham Greene, and some mid-level ones are pretty dark and insane. The film presents a very dark sadistic world with exploitation vibes of female victims associated with the genre.
Maria Gabriela Cardenas and Oscar Cardenas' script hits maximum insanity when we learn why the villain's victims are scalped and skinned. It's crazy and worth discovering for yourself. Plus, the film has some pretty good production values and skilled effects make-up. We're treated to view a few actual skin grafting sessions—all in glorious low-budget indie gore. In fact, some pretty cool visuals still stick in my head.
The film is not perfect, though, housing some significant flaws. The one I'll mention is that there's a lot of stories it unpacks and at a breakneck pace. First, there's Cruz's past involving the killer/kidnapper of his mother and sister. Then we have Cruz's investigation that triggers his PTSD, followed by Rebecca's hidden past and extortion plot. Now add the human trafficking ring, which serves as a supplier to the villain. Yes, even the big bad's backstory has to be told.
I'd describe A Dark Foe as a dark ride at Disneyland. You're invited to step into a vehicle, buckle up, sit back, and enjoy what happens around you. The steady progression into darkness moves rather quickly through one revelation after the other. I feel like the film is more about the progression or descent into madness than telling a strong, cohesive narrative. However, the ride itself is enough to give this horror-thriller a chance.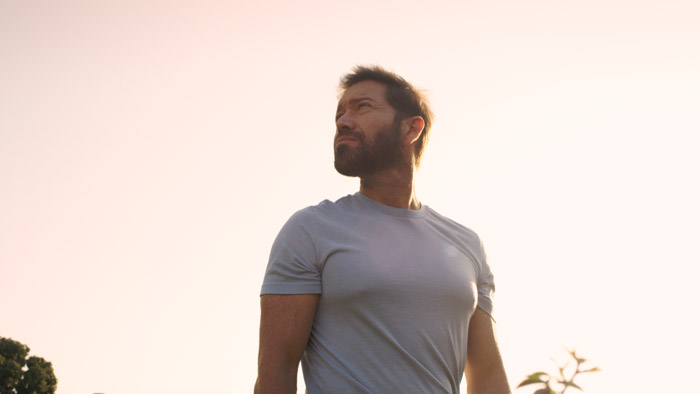 "…treated to view a few actual skin grafting sessions—all in glorious low-budget indie gore."