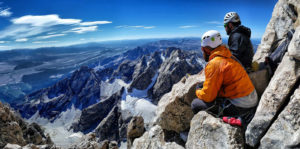 DANCES WITH FILMS 2022 REVIEW! When you have grown up with an abusive mother who rejects you and you're broke and stuck in a cycle of foster care and poverty, it isn't easy to imagine what could be possible in the world. For Bronx-based 27-year-old Anthony Dejesus, the system failed him, but somehow, he survived. A graduate of Rikers Island, Dejesus grew up homeless, lived on the streets with gangs, slept outside, and became a convicted criminal. The African-American man always wanted to achieve more, but the opportunity never existed.
Rewilding is about his experience in a program created by Jesse Spiegel, the film's director, and Vitek Linhart. As wilderness guides and rock climbers, the two had the vision to construct the Rewilding program, where they would take formerly incarcerated men into nature to offer an opportunity to find focus, awareness, and, most of all, peace. As a budding artist, Dejesus had already accepted creativity as part of his life, and perhaps, it kept him alive up to this point. However, the Rewilding program offered him something more, and he was ready for it.
Using the healing effects of nature, Speigel and Linhart designed several weeks of trips across the nation to include hiking, mountain climbing, and rock climbing. Along the way, they'd visit people who could broaden one's horizon on what is possible if you put out the effort and become empowered. Dejesus and his two white hosts, along with Speigel's dog, slept in a van under the stars, enduring some rigorous journeys in the Mountain West, where not everything was as it seemed.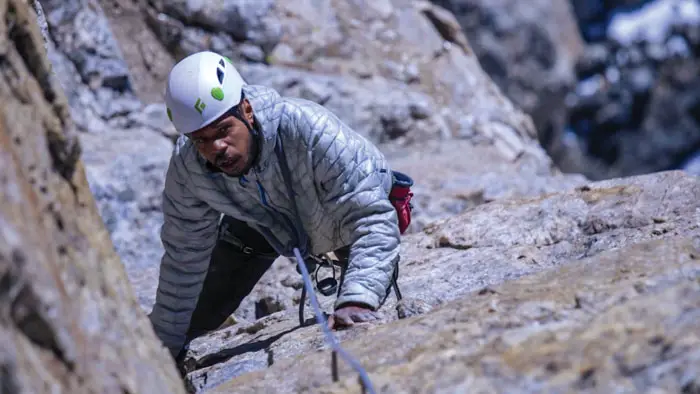 "…take formerly incarcerated men into nature to offer an opportunity to find focus, awareness, and, most of all, peace."
Through this experience, race, inequality, social justice, abuse, hostility, anger, and so many other societal grips that keep a man like Dejesus oppressed were faced head-on. While Speigel and Linhart grew up with their own traumas, it was nothing like a black man in the Bronx. As a filmmaker, Spiegel never loses sight of this issue, as Rewilding addresses how white privilege is an obstacle that must be addressed.
Dejesus tries to find a voice within himself, especially after meeting artist Jeremy Collins, an outdoor adventurer who provides support. Dejesus vows never to quit, no matter the adventure's difficulty, so even when it got emotional and strained, he kept at it. His best friend is brought along on the trip, which provides a great release for him and an excellent pivot point for the film. Speigel and Linhart planned for everything, and when they didn't, they learned from and spoke about it. 
Rewilding is about a real challenge of change and acceptance. Even during the subject's transformation, Speigel and Linhart didn't leave out that in the interview process Kalief Browder was a potential candidate for the Rewilding program but was not chosen. Browder was a young Black man who committed suicide after being in prison with no charge. As the Rewilding program grows in awareness, gaining sponsors and donations, the experience that Dejesus was able to have will be known too, and a man like Browder will never be lost again.
Rewilding ends with a talk and slideshow presented by Dejesus. We see he's now a man with a purpose, vision, and career. He is an artist who loves his work and continues to bring his experience in the great outdoors to his Bronx world. This powerful documentary's many layers are sincere in their meaning and presentation, making it a film to pass along to many. It has beautiful and gratifying camera work from every piece of the journey, and the animation used to recount Dejesus' childhood is well done.
Rewilding premieres at the 2022 Dances With Films.