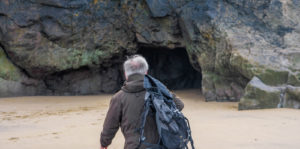 When writer-director Ric Rawlins was working in Bath, he'd go for walks in the country. On these daily sojourns, dark and eerie tales would enter his mind. Wishing to capture an authentically British cinematic experience while showcasing the magic in the sea caves and forests, the filmmaker turned those stories into Britain's first folk horror anthology flick, Rewilding.
The first segment, Stone Mothers, starts with a teenage couple walking along the beach. They decide to check out a nearby cave and see the face of the Devil in it. While they are alive, they are disturbed. Father Hallow (Charles Doherty), the local priest, asks retired archaeologist Alex (John Matthews) to investigate for him.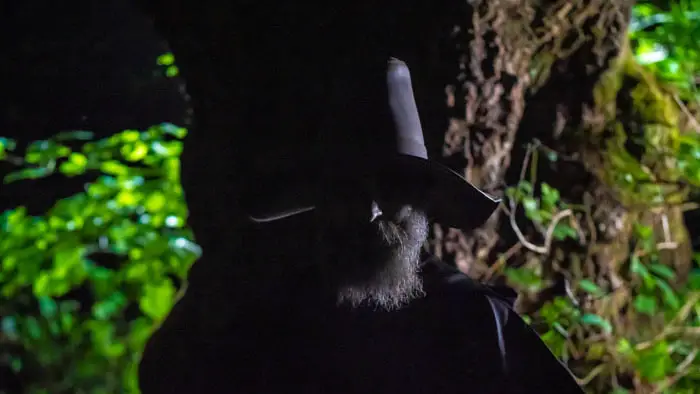 "…a Witch Finder was put into the tree to keep his cruelty at bay."
As the elderly man finds "strange matters better than dull ones," he's more than happy to help. Every day Alex checks the tide to be sure to get out of the cave on time. But, he starts becoming obsessed with what he's uncovering. Will that obsession lead Alex to his doom, or will he discover the mysteries of the ages and live to tell about it?
Rewilding gets off to a cracking start with this initial story. Matthews and Doherty are simply brilliant, as is the rest of the cast as well. While I am not sure who it is, the young bartender running the "emptiest bar" is truly great. The way Rawlins, serving as his own DP, shots the landscape is both creepy and alluring. The editing, also by Rawlins, is exquisite as well, balancing the retired professor's journey with the increasing curiosity of the villagers. While the tale is more eerie than truly scary, it absolutely works.
The Family Tree is the second story and follows author Lara (Natasha Neckles). She's in the country to look up the history of the McDavis Family Tree. Legend says that in the 16th century, the family patriarch, a Witch Finder, was put into the tree to keep his cruelty at bay. Over the centuries, his lineage becomes obsessed with the tree, always dying by it. Lara seeks the truth behind the lore, but her search puts her directly in harm's way.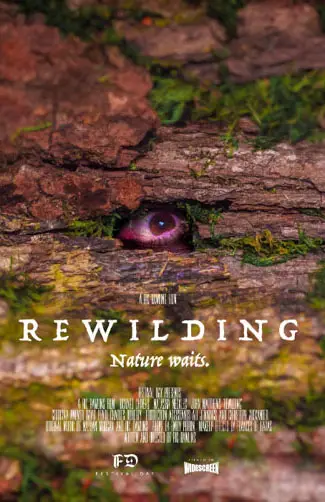 "…Britain's first folk horror anthology flick..."