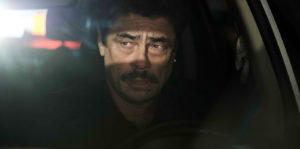 TORONTO INTERNATIONAL FILM FESTIVAL 2023 REVIEW! Grant Singer is one of the top music video directors, having worked with The Weekend, Sam Smith, Lorde, and Taylor Swift, to name a few. His first feature, Netflix's Reptile, opens strong, with the song Angel of the Morning setting the mood. We see lovers and partners in real estate, Summer (Matilda Lutz) and Will (Justin Timberlake), apparently prepping a house to show. We can tell some of the passion is gone. Their work is tinged with a foreboding sense of doom. Unfortunately, Summer turns up brutally stabbed to death, and Detective Tom Nichols (Benicio Del Toro) is sent to investigate.
Suspects abound — Will, as the boyfriend, is a natural one, and he is in a powerful real-estate family run by his mother (Frances Fisher). But Summer's technically still-husband Sam (Karl Glusman) seems shady and may have a motive. Meanwhile, Eli Phillips (Michael Pitt) is a real weirdo who has been screwed over in a real estate deal with Will's family.
Tom and his wife Judy (Alicia Silverstone) have recently moved from Philadelphia to this small town in Maine. He seems well-respected in the police department. However, he is still getting to know everyone, like his captain (Eric Bogosian), a fellow officer with a side hustle, Wally (Domenick Lombardozzi), and the police chief (Mike Pniewski). As Tom starts to uncover clues, paranoia builds. It seems like there might be a grand conspiracy here, and he's unsure who to trust. Still, Tom confides in Judy as they go out country dancing in some of the film's best scenes, even though she may be having an affair.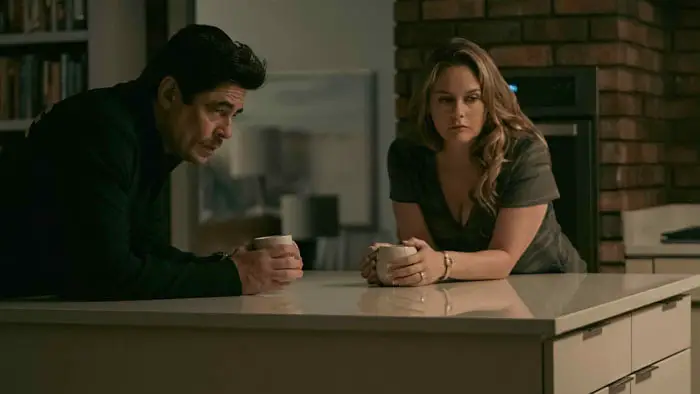 "…Summer turns up brutally stabbed to death, and Detective Tom Nichols is sent to investigate."
Reptile has a lot going for it, including loads of style, lots of twists, an incredibly strong performance by Del Toro, and great chemistry between him and Silverstone. The supporting actors do amazing work, too. Still, it is about a 30-minute edit from being a great film. At 2 hours and 14 minutes, it starts to drag, especially when we're well away from the center of the action, off into our third suspect, on some plot point about a real estate empire, or hearing the medical struggles of the police captain.
Scene-to-scene, almost everything is well done, but the whole is less than the parts. The story has so many twists we get tangled up. The film begins to feel like a slog, and when the ending is revealed, it's less satisfying and more like we need a guide to remind us how all the puzzle pieces fit together.
Singer is clearly going for a Fincher vibe: a police procedural with moody atmosphere. He's not nearly as masterful as Fincher (who is?), but he's clearly got potential. Maybe some of the problems stem from the three-handed script written by Benjamin Brewer, Singer, and, in a first, Benicio Del Toro. I'd love to know who wrote what because every scene with Del Toro is magnetic — this is his best role in years. The film is worth watching for him alone. It is almost a modern noir, but in a fresh take, the detective has a happy relationship.
Reptile is certainly watchable, but like so many of Netflix's films, it is just kind of a B- affair. There's good stuff there, but it could have been great with a little extra effort.
Reptile screened at the 2023 Toronto International Film Festival. It opens in theaters on September 29 before coming to Netflix on October 6.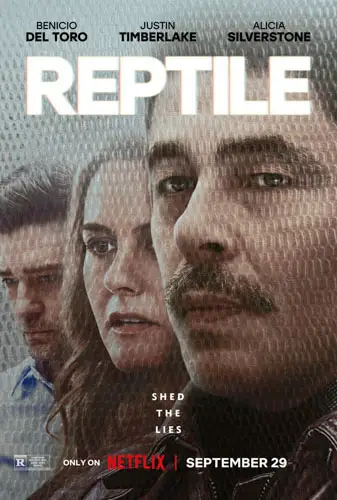 "…It is almost a modern noir, but in a fresh take the detective has a happy relationship. "