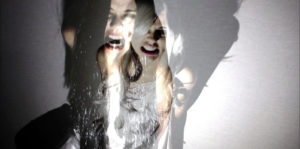 Blood Daughter is the latest entry in writer-director Bryan Enk's decades-long cinematic odyssey bringing Bram Stoker's Dracula to life. The almost two-hour film goes back and forth through time, has a huge cast, deep lore, and switches from drama to horror to comedy on a dime. Does this mean it's inaccessible to an unfamiliar audience, or does the indie veteran include an entry point?
In the interest of remaining spoiler free, the plot synopsis will be short and only cover a tiny fraction of what's happening. Abby (Alexandria Johnson) lives in a tower, and her every need met by her father (Jeff Miller) and his servants. The isolation seems to have driven Abby crazy, as she holds conversations with entities who aren't here. Or are they?
Meanwhile, Claudius (Andy Hunsaker) is trying to track down his daughter, Emilia (Emi Curia). He soon discovers that she's been ushered to the tower. Why was Emilia taken? Who is Abby, really?
Blood Daughter is most ambitious. This is evident in several ways, but the best example is Alexandria Johnson. The actor, who's been in this series since she was a baby, performs in a dozen roles, give or take. Sometimes she's Abby; other times, she's her actual self; in certain scenes, Johnson plays her character's brother. And for the sake of remaining spoiler free, that is all that will be said there.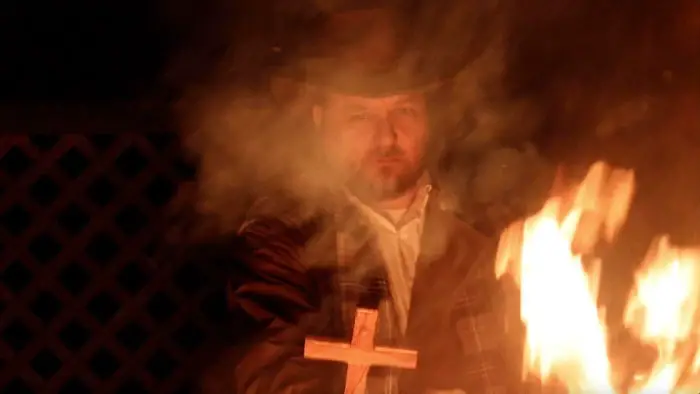 "…Claudius is trying to track down his daughter…"
Enk's epic scope is also seen in the abstract visuals employed via Robert Rodriguez-style editing. The great thing is that instead of keeping viewers at a distance, the insane imagery establishes the off-kilter world while building atmosphere. The filmmaker overlays shadow eyes or projects the outline of characters on top of other scenes, creating a sense of unease. While genuine scares are only in a few spots, dread and eerieness are front and center. On that front, Enk delivers. The precise edits are controlled to maximize the creep factor.
Aside from writing, directing, and producing, Bryan Enk was also the director of photography alongside Benjamin J. Chew for Blood Daughter. Together they make a lovely-looking film. The lighting is moody as all get out, with the use of shadow and light being exceptional. The blocking within the camera frame also exudes a creep factor as one gets the sense that someone or thing is just out of view, casting an uncomfortable pall.
More importantly, the cast is impeccable. First, there's Johnson, whose 13 parts are all unique and distinct. She naturally commands the screen, making every moment she's on the screen compelling. Hunsaker adds pathos and energy to the role, making Claudius easy to root for. Miller is demented and terrifying as Father. Chuck Johnson as Van Helsing is fantastic, being serious and funny often in one scene.
While there's a lot to like here, some issues abound. The ultimate why behind everything seems to hinge on an emotional impact built up in the other titles. As such, a lot of Blood Daughter works on its own, but the ending, not so much. Or at least, that is how it feels (full disclosure: this is my first Enk-Dracula outing). If the heart of the picture isn't tied to its predecessors, then the movie runs out of steam. Either way, parts of the conclusion don't resonate properly. Still, the last few scenes are sweet, even if explaining what they mean or why is difficult.
Blood Daughter is an ambitious feature. Enk's precise control of tone and atmosphere makes for an eerie and uncomfortable watch. The cast is perfect, especially Johnson and her dedication to every part she appears in. While the ending's impact is not readily apparent for first-time viewers, it still works on some level. Whether one is a long-time fan of Enk's vampire saga or just discovering it, this film's scares and superb story structure are sure to engage on most fronts.
For more information about Blood Daughter, visit the Third Lows Productions site.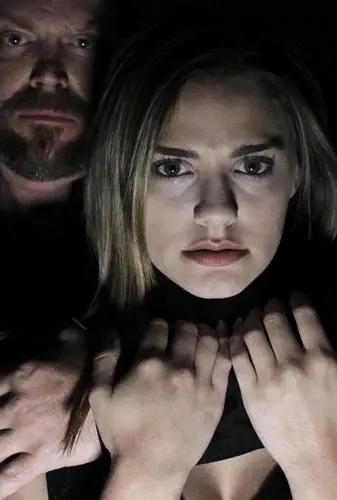 "…[Johnson] naturally commands the screen..."