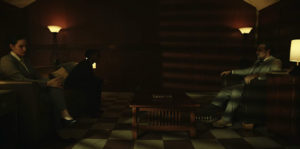 Bedegraine (Lexsy McKowen) and Bravien (Assia Lau'ren) are facing major romantic obstacles at the beginning of writer-director Noah A. Waters III's charming Relationship Killers. The couple sits in an amber-hued waiting room bickering over semantics and the minutia of their relationship as they await a marriage counseling session. Typical enough it would seem, but in Waters' darkly comedic short, the answer to their problems is pitch black. While the drama isn't perfect, between the acerbic script and a few shining moments, there's enough here to enjoy and make it worth watching.
Bedegraine and Bravien are first greeted by Too Tomlinson (E. Talley II), who checks them in for their appointment. His over-the-top, sunny flamboyance is a stark contrast to the couple's acid-tongued exchanges. The two are then finally brought in to see Dr. Dee (Jerry G. Angelo). Here is where they begin to dive into the fundamental problems in search of a solution.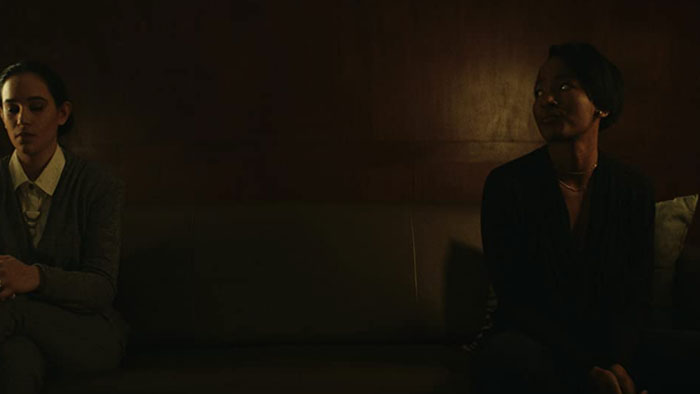 "…bickering over semantics and the minutia of their relationship…"
McKowen and Lau'ren do a fine job as the couple from hell in search of marital bliss. The standout, however, is Talley's absurdly cheerful receptionist. I could have spent another few minutes with his hilariously grating cheeriness against the grouchy lovebirds.
As for Waters III, he shows both his strengths and weaknesses during the 11-minute runtime. There are beats in the direction and script that spotlight a solid eye for staging, but there is a lingering, stagey feel to other scenes. This extends to the resolution, which, however delicious and dark, seems to come out of nowhere. Let's be clear, I wanted Relationship Killers to get nice and dark, but the development felt like a box was being checked rather than a true revelation on the part of the characters or story.
Relationship Killers is a breezy little piece of macabre love that hits more than it misses. The filmmaker offers audiences a pair of merciless lovebirds who find romance the only way they know how. Overall, this is a quick, frothy bit of black comedy worth consideration.