The Red Dog Saloon might not be a known entity today, but it was once the biggest draw of its kind in Oklahoma City. When learning that his mother, Kim Kassen, was more than just a bartender there Luke Dick, along with Casey Pinkston, set out to chronicle her stories of the landmark haven of sex, drugs, and rock n roll. He also interviews several other dancers, the son of the deceased "Nasty" Cathy, the bouncer Tiny, and the current owner. The ensuing documentary Red Dog is the culmination of those interviews and hard work.
Founded roughly 60 years ago, the future site of the strip club did not start as such a place. The strip club was an auto mechanic shop for years beforehand. Once that closed and they transformed it into a bar, the car lift was still operational. The women of the Red Dog would dance on top of it as the main stage. Due to the chains holding off the ground, the stage would literally bounce.
It remained a staple for several years, with it still running as a bar. However, these are cold, hard facts that any Travel Channel show of famous old landmarks would dole out. Pinkston and Dick have something much grander and poignant in mind. His mom left her home at 15-years-old and lied about her age to get a job at the Red Dog. At first, she was a waitress but soon realized where the real money was. Crisscrossing interviews with Kassen, the other dancers, Tiny, and other people who were in the scene effectively paints a picture of what the hard-partying life was like in the 1970s.
"… set out to chronicle her stories of the landmark haven of sex, drugs, and rock n roll."
To get these crazy tales across in a visually appealing way, Red Dog shows them as animated memories; if that's the right term. Not only does this break up the monotony of talking head documentaries in a very stylish way, but it also brings a lot of levity. These animated segments rush head first into cartoon land, with zany sound effects and goofy exaggerations of the violence and drug use being discussed. It is a fun way of recreating the timeframe and as well as disarming the audience.
See, as entertaining as those animated sections are, they subtlety make everyone a bit more human. Kassen talks of going to the nearby lake in Hollis, the manager's, blue Chevy truck. Those were some of her favorite nights hanging out with everyone. By the time she talks about the dissolution of her second marriage, the audience feels like they know her very well. Same goes for some of the other stories by the other dancers.
You might have noticed something refreshing throughout the recaps of events. Red Dog is wise to never judge these women for being strippers. At no point is their dancing or anything else they may have done judged by the filmmakers (or the other dancers, most of whom are still good friends). When asked if they had regrets, they all answered yes, but only some of those are related to the Red Dog; most of the women interviewed have fond memories of that place, and figured out whom they wanted to be and the kind of life they wanted there.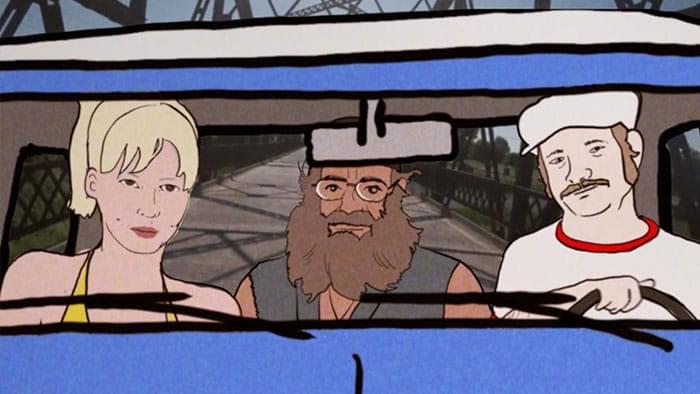 "In order to get these crazy tales across in a visually appealing way, Red Dog shows them as animated memories…"
It is great to watch a film about people that society usually deems immoral or sinful, only for the movie to turn those supposedly wicked souls into flesh and blood beings. When the time comes for everyone to discuss why or how they left the Red Dog, the audience has become so emotionally attached to these people that it is hard to hear the uncomfortable limits forced upon them.
However, the most tragic part is when "Nasty" Cathy disowns her son. His stepdad kept beating up Cathy and the then-teenage boy. After one particularly brutal attack, that was enough for him, and the son went to the cops. See, the stepdad was a professional drug dealer, growing copious amounts of cannabis in his house. Cathy never forgave her son for this act of betrayal, and by the time of her death, they did not reconcile.
Red Dog gets humorous anecdotes and emotional resonance across in a very relatable way. As a documentary though, things are a bit mixed. While the animated sections work well enough, the interviews seem to have no consistency in the way they were filmed. Some are well lit with crystal clear audio, and others are of noticeably lesser quality. This does mean that the answers to questions asked are not also heard correctly due to garbled sound. It is frustrating, but it only happens a few times.
Red Dog finds the humanity behind the booze, pills, sex, and rock n roll of one of Oklahoma City's most acclaimed hotspots for decades. It uses animation to bolster the dramatic heart of the film (even if some of the earliest stories run together) and the interviewees are all fascinating people, whom the filmmakers are careful never to judge.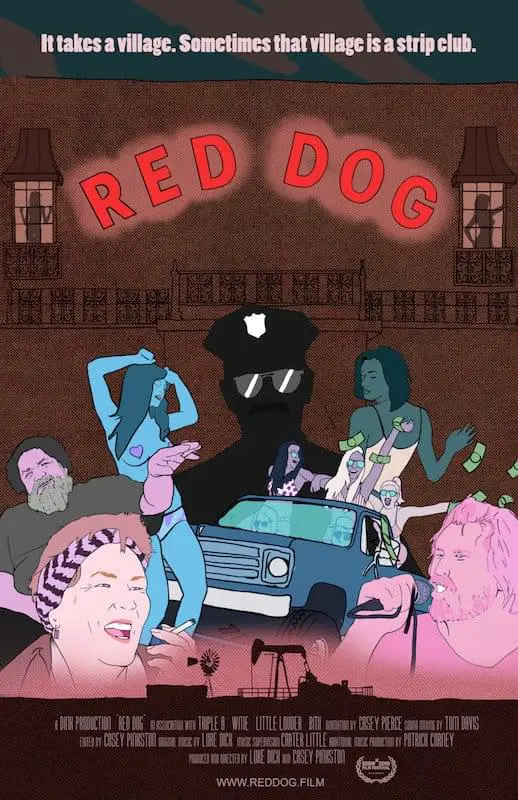 Red Dog (2019) Directed by Casey Pinkston. Written by Luke Dick. Starring Luke Dick, Kim Kassen, Tiny. Red Dog screened at the 2019 SXSW Film Festival.
8 out of 10 Dive Bars