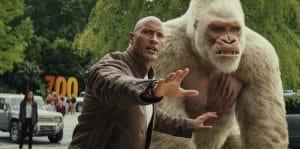 Rampage poses one question: How much Dwayne Johnson is too much Dwayne Johnson? The actor turns out films with an alarming regularity, just a tick under a Nicholas Cage-like speed, and almost all of them turn into hits (especially last year's surprise critical and box office hit Jumanji. This critic did not see it, opting to die on the hill of 90s nostalgia out of respect for Robin Williams). Even though they are rarely anything substantive, they all seem to be missing that extra dash of flavor to make for an exciting romp at the movies but Johnson's charisma seems to carry them across the finish line for most.
"…a former soldier, turned primatologist…"
The latest installment in his "Not for Critics but for Fans" marathon, Rampage puts Johnson at the forefront of rampant destruction in the name of cheap thrills. This time, Johnson plays Davis, a former soldier, turned primatologist (obviously), who has a special bond with an albino gorilla named George (played by Jason Liles in motion capture). Davis and George communicate through sign language but act like buddies sharing a couple beers. They exchange fist-bumps and middle fingers, share laughs and jabs at each other's expense.
Rampage isn't a feel-good story about a man and his gorilla. No, this is an expensive disaster-pic, where the gorilla mutates to an even bigger gorilla and wreaks havoc upon a major city (Chicago is the city du jour of this outing). George isn't the only thing terrorizing the windy city; he's joined by an alligator and wolf. The mutations can be traced back to Energyne, a company run by Claire (Malin Akerman) and her brother Brett (Jake Lacy), which means they hold the only cure for the madness unfolding. Davis has to make his way through the destruction, along with a geneticist named Kate (Naomie Harris) and a government agent (Jeffrey Dean Morgan, sporting a very forced Southern accent).
"Every beat the movie takes has been rinsed-and-repeated…"
Every beat the movie takes has been rinsed-and-repeated from many films before, culminating in the overlong finale that's numbing and repetitive. Director Brad Peyton reteams with Johnson, after San Andreas, and it's like the two never parted ways. The last 30 minutes-plus of this movie is watching the three creatures play hacky sack with every car, person, and building in Chicago. At an hour and 47 minutes, Rampage wears thin far too quickly.
As most of Johnson's films do, Rampage is likely to find an audience, looking to kick-start their summer movie season, but one must think the audience must eventually begin to dwindle. There's a sameness that plagues these spectacles he attaches himself to, which lack any kind of majesty in its mayhem. Johnson consistently runs, flies and dodges buildings and the movies that occur behind him change scenery like your laptop screensaver. Rampage is the same as before and will likely be the same as the next. I'm ready – and even eager – to be proven wrong.
Rampage (2018) Directed by Brad Peyton. Written by Rob Engle, Carlton Cuse, Ryan J. Condal and Adam Sztykiel. Starring Dwayne Johnson, Naomie Harris, Malin Akerman, and Jake Lacy.
Grade: C-