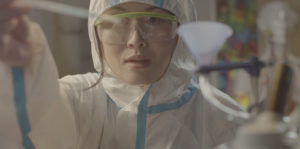 The writer-director Nicole de Meneses' comedy short, Queer Science, asks where has queer science taken us?
Max (Irene Tu) is awakened by her girlfriend Dani's (Jennifer Koman) unattended alarm. When Max investigates, she finds the workaholic Dani in her lab working on her latest experiment. Max is upset that Dani would rather experiment than take a quick vacation at Max's next resort stand-up comedy appearance. Before you know it, Max is struck by Dani's experiment to hilarious results.
Queer Science is a fairly straightforward comedic sketch from filmmaker Nicole de Meneses. The setup is Dani's science experiment. The humor comes as the result of Max laying victim to the experience. The punchline comes in the final aftermath. Tu and Koman give excellent performances as Max and Dani, though the overly science-y dialogue is hard to get out at times.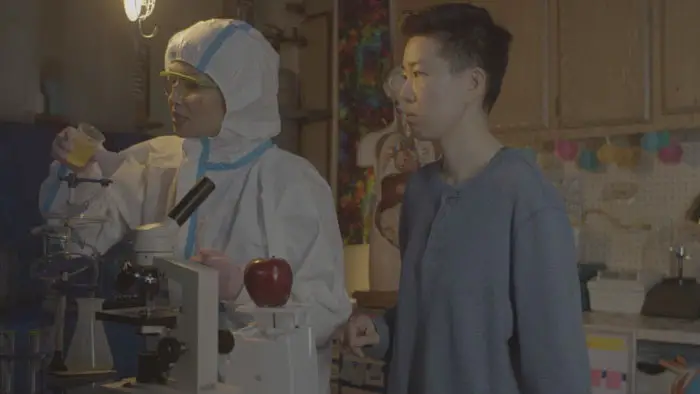 "Max is upset that Dani would rather experiment than take a quick vacation…"
I have a few other nitpicky quibbles. The first is to invest in some lighting and sound recording equipment. This will elevate your next film significantly. The other is the title. I get that this is an homage to Weird Science based on the basic plot and 1980s techno soundtrack. But seeing the title, Queer Science, I was expecting more than just two leads being in a same-sex relationship. Maybe this theme would carry itself somehow in the actual experiment. Again, nitpicky for an otherwise good comedy sketch.
As we tell all emerging filmmakers, make your movie. Nicole de Meneses made a film with a solid though offbeat plot. Queer Science employs many well-placed special effects that look pretty good for a cast and crew starting out in this heartless industry. This is a great start for the writer-director. Now send us your next film.
Queer Science is currently on its festival run. For more information, visit Dark Rainbow Films' official website.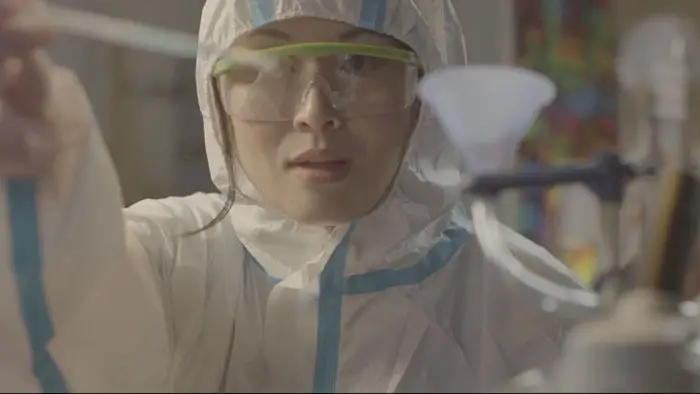 "…solid though offbeat..."