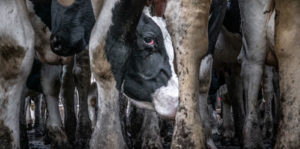 SLAMDANCE FILM FESTIVAL 2023 REVIEW! Punk Rock Vegan Movie, a rambling, chaotic oral history of veganism in the punk rock movement, is Moby's directorial debut. Interviewing luminaries of the art form, from Dave Navarro of Jane's Addiction to DH Peligro of The Dead Kennedys, the film documents the rise of veganism and the animal cruelty movement. To be clear, that would be the people up in arms and protesting animal cruelty.
In this oral history, we learn Moby started his career playing guitar for the Vaginal Commandos. Also, in the early 1980s, it was incredibly difficult to be vegan on the road. We learn of various bands' strategies for eating food while touring. Many would buy cheap stuff like cereal and soy milk. Others would acquire tahini, white bread, and lettuce. The whole time this digression was ongoing, the little voice in my head was asking, "Was peanut butter not available?" If you're going to eat commercial bread, there should be no issue with commercial-grade peanut butter. That nut butter is straight vegan, especially the all-natural varieties.
Punk Rock Vegan Movie is at its strongest when it sticks to the oral histories of all the punk rockers. When it diverges into footage of protests, it becomes a bit muddy and hard to follow. Also, the interspersed historical background footage of punk performances is haphazardly spliced into the edit, creating weird breaks. A very odd skit halfway through involves a morning news anchor interviewing The Devil (Moby).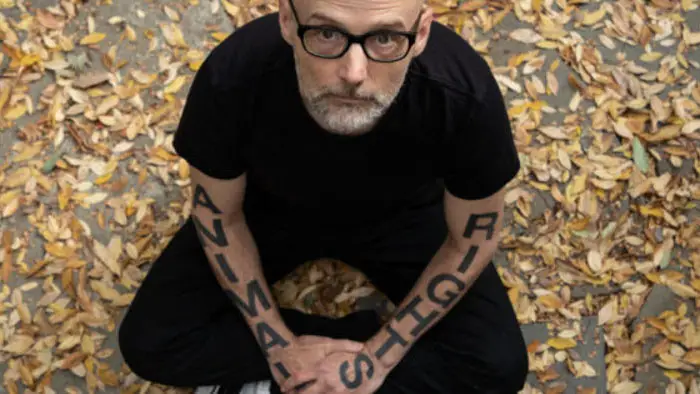 "We learn of various bands' strategies for eating [vegan] food while touring."
When the movie slows down, and it's just Moby portraying himself and his beloved fur baby Bagel (for whom Moby provides the snarky voice-over), it becomes quite funny. Those portions are spread out over all 90 minutes of this documentary, so it's never a long respite.
The found footage of animals on factory farms is heartbreaking, and yet it feels like a retread. There are terrible scenes of animal cruelty witnessed over and over again. It's as if the crew decided repetition of imagery would concretize the point that we should value animal life and not exploit them for food. The material was upsetting to this son of a butcher. As with the farmers in my family, animals should be treated with love and respect. When slaughtered for meat, they should still be treated respectfully and with all the kindness one can spare. The killing blow should be swift and precise, the death should be instant, and the head should be almost perfectly severed from the rest of the body. In Punk Rock Vegan Movie, we learn many factory farms no longer practice swift slaughter. Rather, they treat the animals terribly and permit a machine to slaughter them wholesale gruesomely.
It would seem Punk Rock Vegan Movie is Moby's essay as to why he is a vegan. While it is a powerful testament to his convictions, I, a lifelong omnivore, will continue to eat meat regardless. However, even before viewing this, I switched to purchasing only locally sourced meat from family-owned ranches. If the meat comes from a big company like Perdue, Tyson, Murry's, etc. I probably won't be buying their wares anymore. Seek this out if Punk Rock or Veganism is your jam.
Punk Rock Vegan Movie screened at the 2023 Slamdance Film Festival.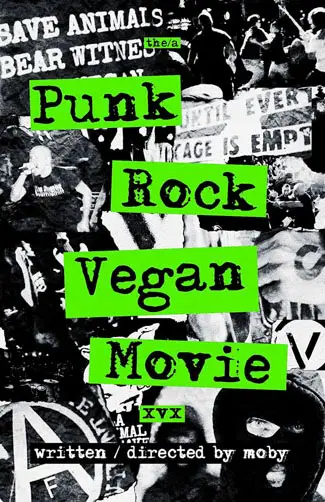 "…seek this out if Punk Rock or Veganism is your jam."