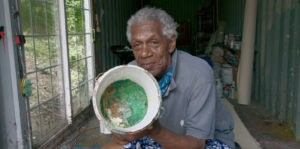 SLAMDANCE FILM FESTIVAL 2023 REVIEW! Director Alex Rappoport's With Peter Bradley is an engaging, inspiring chronicle of the life and career of Peter Bradley, an energetic artist of color field abstract painting who came to prominence in the 1970s. Bradley was adopted, and his mother lived surrounded by artists and jazz musicians. For many years he believed he was the son of jazz virtuoso Miles Davis.
The artist still loves jazz and plays music while he paints. Bradley describes a kind of synesthesia where he feels the music and tries to translate the sound to color. While his house is modest, he maintains a respectable music collection and quality audiophile equipment for playback. He navigates mountains of canvasses of completed works to get around the house. His painting process over the years has become specific and refined in terms of mixing paint with water to achieve the look he desires. Bradley also has a fascinating editing approach where he examines a large canvas to see if there's a more interesting image that could be cropped out of it.
According to the website for With Peter Bradley, Rappoport met the then-79-year-old abstract artist in early 2020. Bradley hadn't sold many paintings or had a major show in over four decades, yet he still paints daily in a shipping container studio heated by a wood stove, no matter the weather. Over time, Rappoport recorded Bradley's fascinating life story, which occupies a unique and seemingly overlooked place in art history.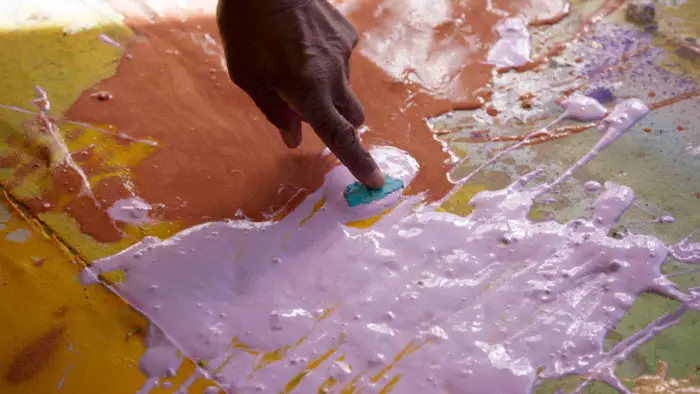 "…Peter Bradley, an energetic artist of color field abstract painting who came to prominence in the 1970s."
The filmmaker and the artist came together during the pandemic and had to keep interactions open-air and crew minimal to reduce the risk of Covid. Except for photos shown throughout, only Bradley appears on the screen. This conceit started out of necessity but was later done as a conscious choice. It informs the documentary with an immediacy and vibrance that is rare in this format.
Peter Bradley's artistic genre is a variation of general abstract. Wikipedia explains that "color field is characterized primarily by large fields of flat, solid color spread across or stained into the canvas creating areas of unbroken surface and a flat picture plane. The movement places less emphasis on gesture, brushstrokes, and action in favor of an overall consistency of form and process."
With Peter Bradley dives into the subject's storied life. His mother exposed him to art and music and made sure his education was sound. She clothed him in tailored garments and gave the best possible start to a child who honed in on the arts. Bradley's talent was obvious early on, and even as a young adult, he was sought after by schools and artists.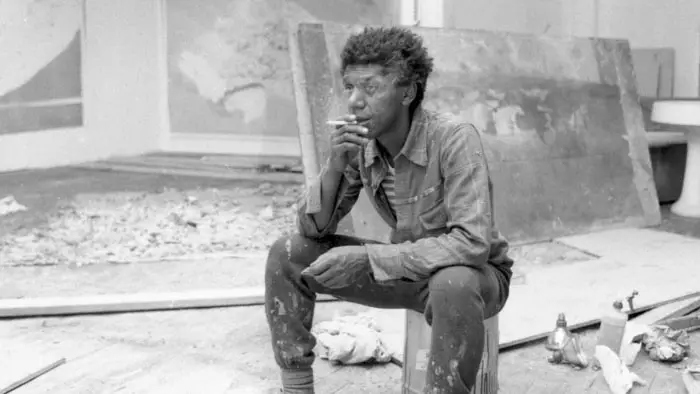 "…Bradley's art is as alive as the flowers in his backyard..."