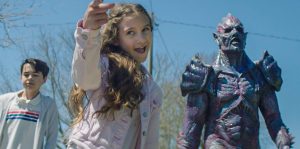 The warped wizards of Canada's Astron-6 Production Company have returned with Psycho Goreman, carrying with them the same irreverent, esoteric humor and gore that has marked their works for over a decade. The talentedly twisted collective has demonstrated a slavish devotion to the gory, glory days of the VHS-ruled 80s in projects such as Insanophobia, Goreblade, and Xtreme Ghost Killers, as well as forays into features such as Manborg, Father's Day, and The Editor.
In 2016, the group ventured into a more straightforward horror features, The Void, which still leaned heavily into John Carpenter's influence on the decade, but failed to gain traction outside the most dedicated genre fans. Harkening back to their hell-for-leather history, the gang decided to make Psycho Goreman, a feature that is perhaps the very essence of what they began crafting back in 2007, even if they have left the Astron-6 label behind.
Psycho Goreman opens with siblings Luke (Owen Myre) and Mimi (Nite-Josee Hanna) idyllically playing some silly game called "Crazy Ball," which features rules that seems like it could only come from the minds of children. The game's victor, Mimi, makes her brother bury himself alive as a result of his loss, and in the process, they unearth a glowing gem from the Planet Gigax that wields power over an intergalactic beast (played by Matthew Ninaber, voiced by Steven Vlahos) determined to destroy the galaxy. 
Though he prefers to be known as "The Archduke of Nightmares," Mimi, unphased by his monstrous frame or murderous intentions, decides to name him Psycho Goreman (PG, for short) and decides to take him home as a newfound pet. And before you start imagining their relationship leads to some Terminator 2-style antics in which they learn from one another and begin to realize the beauty of friendship, know this:
Mimi is a thoroughly selfish, wretched character who has no qualms about threatening to kill her brother and is perhaps even more malicious than PG, and 

PG remains steadfast in his plan of destruction throughout, obeying orders only until he regains possession of the gem.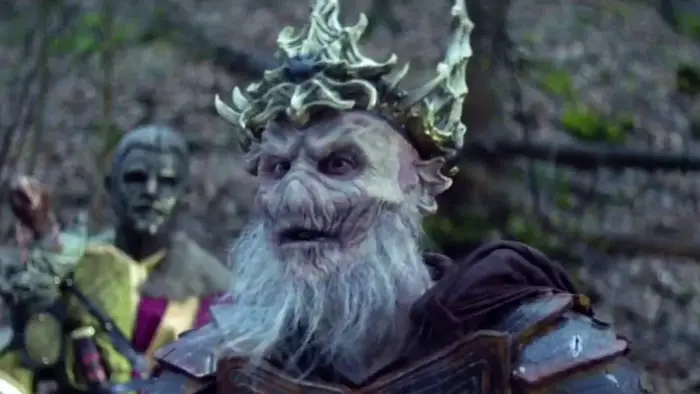 "…they unearth a glowing gem from the Planet Gigax that wields power over an intergalactic beast…"
Writer/ director Steven Kostanski is determined to take every genre expectation we may have and subvert it with equally humorous and gory results. The amount of care and time spent on world-building is a testament to his dedication. PG is pursued by an intergalactic group of templars, led by Pandora (played by Kristen MacCulloch, voiced by Anna Tierney), who is quite murderous in her own way in attempting to stop our titular "hero."
Throughout, there are running gags that land spectacularly: the kids' father (Adam Brooks) seems woefully unskilled at parenting and providing advice that would only further endanger his children's lives; PG mutates more than one supporting character, with hideous results; and the only character growth anyone has makes them more resolute in their initial plans. 
There remains a spirited enthusiasm through the entirety of Psycho Goreman that demonstrates its affection for the genre (during a ubiquitous shopping montage, they decide on the exact same outfit worn by Dr. Alan Grant, Sam Neill's Jurassic Park character).  
The movie's ability to flirt with the familiar and completely turn it on its head is what keeps Psycho Goreman so perversely fresh and fun throughout. It never once betrays its dark heart and continually trots out practical creature effects that tumble out of a GWAR nightmare that keep it engaging, unique, and deliciously deviant all the way to the closing credits.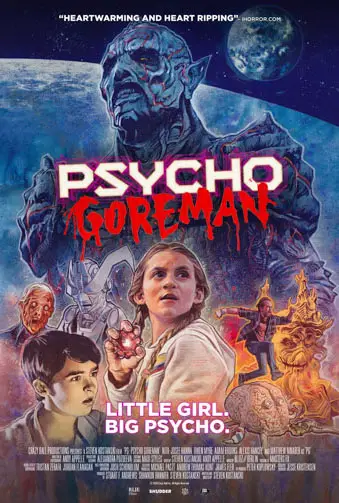 "…deliciously deviant all the way to the closing credits."