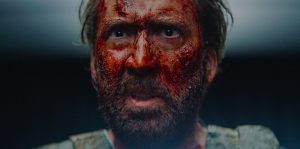 I was curious to see Nicolas Cage impersonating a merciless avenger in the utterly violent film Mandy, a candidate for the darkest film of the year. Thus, if you are a fan of the actor who helped to create memorable cinematic treasures such as Leaving Las Vegas, Bringing Out the Dead, and Adaptation, this is a great opportunity to witness his momentary return to the limelight through a wild performance. And if you dig macabre, evil scenarios accompanied by brutality in its physical and psychological forms, all vigorously propelled by powerful heavy metal chords, then this is an extra reason for you to visit the sophomore feature from Italian-Canadian Panos Cosmatos (Beyond the Black Rainbow). The filmmaker's father, George P. Cosmatos, was also a film director, best known for Rambo: First Blood Part II and Cobra, both starred by Sylvester Stallone.
The story takes place in 1983, near the Californian Shadow Mountains where Red Miller (Cage) and his beloved girlfriend Mandy Bloom (Andrea Riseborough) find solace for their traumatic pasts in long, therapeutic conversations. They couldn't imagine that evil would destroy their lives after Jeremiah Sands (Linus Roache), the delusional leader of the hippie sect Children of the New Dawn, has put his eyes on Mandy, coveting her with obsessive resolution. He orders his vassal, Brother Swan (Ned Dennehy), to kidnap her while Red is immobilized and tortured.
"Mandy couldn't help but laugh madly when Jeremiah exhibits his penis…"
Despite drugged with mind-expanding eye drops and a bizarre dream-inducing sting from a huge insect, Mandy couldn't help but laugh madly when Jeremiah exhibits his penis. It's a psychedelically insane scene and the only reason why the paranoid and frustrated Jeremiah ordered his freaky disciples to burn her alive. No need to say that Red is left alive and manages to escape, pursuing the evildoers like a mad dog.
Immersed in a phantasmagoric penumbra and occasionally painted with saturated red and blue colors, Mandy makes its way with an increased level of graphic violence that refuses any type of enlightenment. The parts that worked better for me were the hallucinogenic ones, but some viewers will also probably rejoice with the dark humor and gory blood spills in a one-by-one manhunt.
Even though it's all too gut-wrenching and sunless, kudos to a fast-and-furious Cage, who returns from the dead with an insatiable appetite for vindictiveness.
Mandy (2018) Directed by Panos Cosmatos. Written by Panos Cosmatos and Aaron Stewart-Ahn. Starring Nicolas Cage, Andrea Riseborough, Linus Roache, Ned Dennehy.
6 out of 10 stars