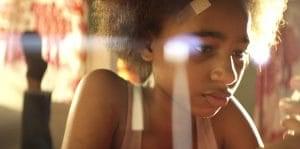 Van Maximilian Carlson's Princess of the Row centers on Alicia (Tayler Buck), a 12-year-old aspiring writer who lives in Los Angeles. Alicia's family circumstances aren't exactly great: her mother is absent from her life for unspecified reasons, while her father (Edi Gathegi) is a homeless, mentally ill war vet. As a result, Alicia has been living off the city's foster care system for several years, and her supervisor Magdalene (Ana Ortiz) has tirelessly worked on her behalf to match her with a suitable adoptive family.  
Here's the problem, however. Alicia's life in foster care is materially comfortable, and Magdalene certainly cares about her. But in spite of it all, Alicia would much rather live with her dad. Even if that means living on the streets, causing Magdalene endless grief, and placing herself at the mercy of street thugs.
"…Alicia would much rather live with her dad. Even if that means living on the streets…"
Generally speaking, the drama in Princess of the Row's narrative stems from just how far Alicia is willing to go to be by her father's side. For instance, when she's placed with an adoptive family that lives several hours from L.A., Alicia steals their money to buy a bus ticket back to the city. And at one point, Alicia even entertains the idea of becoming a prostitute. Sure, it may be dangerous, demeaning, and illegal. But as long as it gives her enough money to support herself and her dad, she's willing to take the risk.
In terms of its subject matter, then, Princess of the Row will remind you a lot of Debra Granik's Leave No Trace, another better-known film about a headstrong daughter and her veteran father. Like Granik, Carlson offers an unflinching, eye-opening look at poverty and the effects of economic inequality in America. Moreover, both of these films also shed much-needed light on American veterans, exposing the shameful treatment they receive from the government and civilians alike.  
"…a touching and worthwhile look at how the other half lives."
Personally, if I had to choose, I'd say Leave No Trace is better than Princess of the Row. The former is defined by its restraint, and its Granik always leaves it to you to draw your own conclusions about the characters. By contrast, the latter sometimes succumbs to the temptation to "tell, don't show," using overly emotional music and heavy-handed dialogue to hammer in messages about family, love, and injustice.
Still, if you can overlook those issues, Carlson's work definitely has a lot to recommend. Maz Makhani's elegiac cinematography expertly evokes an atmosphere of despair and aimlessness. And more importantly, Buck and Gathegi are both remarkable, portraying their characters with a resilience that feels raw and authentic. Ultimately, these elements all make Princess of the Row a touching and worthwhile look at how the other half lives.
Princess of the Row (2019) Directed by Van Maximilian Carlson. Written by Van Maximilian Carlson and A. Shawn Austin. Starring Tayler Buck, Edi Gathegi, Ana Ortiz, Martin Sheen.
7 out of 10