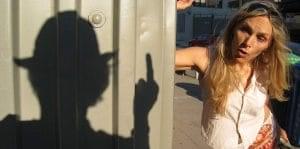 The film synopsis says it is "a love story gone bad," but Prince Harming is a lot more than that for better or worse…
It is the story of Victoria, a 40-something New Yorker still trying to make it big as an artist, juggling between various gigs, being a dance teacher and presenter of a web show created with a couple of friends. She is single and can only afford to live in a small decaying studio apartment where she spends her time on her laptop writing projects and video calling her mother in Liechtenstein.
One day, one of her dreams come true; she gets to interview her idol and celebrity crush, Olympic athlete and forgotten star, Max Bauer. They bond instantly over their similar pasts or the fact that they are both immigrants from Europe. Thus, as he is quite the charmer and she believes she finally found her "prince charming," things move on pretty quick. From their first encounter, they move in together (or Max comes to live with Victoria) and get engaged. In the meantime, Max's behavior changes, revealing his true self, far from his fun and over-the-top romantic first appearances.
From the beginning, the idyll seems dubious to everyone except her (as it is usually the case in real life, people "desperate" to be loved are often completely blind to red flags). Max is obviously having an affair or lying about pretty much everything and "using" Victoria. And although the depiction of events is quite spot on, it is a shame the movie did not try to be more subtle with these details as it makes Victoria looking more foolish than she is. It was actually novel to see this very stable, rational, independent woman who did not appear to be gullible at all, falling prey to an abuser, and so, it was quite frustrating to see how the film was quick to reveal everything to the audience.
Unfortunately, this was not the only unsatisfactory aspect of the film…
"…he is quite the charmer and she believes she finally found her 'prince charming,' things move on pretty quick."
At this point it is fair to say Prince Harming is more about substance than style — even though it tried — and they visibly had a very low budget, but it is not an excuse for not paying attention to basic details such as sound. Few scenes were near inaudible, while others provided some unnecessary score akin to obnoxious 90s infomercials background music. On top of that, the film suffered from an exceptionally poor visual.
In addition, one of Prince Harming many cons is that it felt painfully long at times. Tedious discussions leading nowhere and endless scenes  that would have otherwise perfectly highlighted important points, turned "cartoonish" after a while.
The movie would have benefited from some serious editing/cuts, especially in the beginning as it announced a comedy filled with slapstick humor or a benign relationship drama rather than a devastating story of domestic abuse. It could reasonably be off-putting for one to watch a quirky second-rate romcom showing people getting stuck in a giant pretzel changing midway into a raw drama about deadly relationship abuses with an "SM horror movie scenario" scene.
Similarly, in the first part of the film, the characters are attempting to make a funny video that turns out, despite their best efforts, unhumorous, unsuccessful or pathetic to some degree, so their main talent felt uncomfortable and deserted them. Very sadly the film, mirroring the situation, replicates the same mistakes and viewers will be left wondering if they too should give up or give the movie a second chance.
Which bring us to the pros! If viewers decide to stick around past the inept or perhaps only miscalculated first act, then they will discover an interesting second movie in Prince Harming.
"…delivering a poignant film about a deeply upsetting topic with a personal and unique take."
It is evident that the film is a passion project where everybody involved went 101% despite lack of resources, they had noble intentions of delivering a poignant film about a deeply upsetting topic with a personal and unique take.
The actors were all committed through the highs and lows, but a highlight of the film was Andreas Beckett's Max. He might come across as chiefly exaggerated, resembling a Jason Statham impersonator with a good mix of goofy and menacing, but it somehow makes him a plausible villain.
Additionally, Marianne Hettinger made a point of addressing the very real issue of ageism in the creative industries (and in general!) and in a way subverted the common film trope of the young striving artist to show us the reality of the multitudes of "older", mature or not-so-young-anymore individuals who are still trying to make it.
Lastly, as #metoo or #timesup films popped up here and there in recent years, Prince Harming has something genuine to say with a story that did not seem "tailor-made" for its time. In the end, every single situation, no matter how badly executed on-screen, from Victoria's professional struggles to the portrayal of her destructive relationship with Max, proved that authenticity is key for a story to make a meaningful impact.
Prince Harming (2018) Written and directed by Marianne Hettinger. Starring Marianne Hettinger, Andreas Beckett, Velson D'Souza, Deborah S. Craig, Martin Ewens.
3.5/10