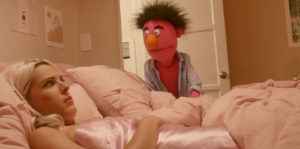 Whenever a television series or film has to do with puppets, I am all in, and that is all thanks to the late great Jim Henson. So when I saw that Play Date, written by star Jaden Lebel and director Mashka Wolfe, had a puppet theme in its story, I was instantly interested. Now, keeping my interest is a whole other issue.
In most cases, as you get closer to a person, you start to see that person differently, whether it is positive or negative. This humorous short takes this situation and plays around with it quite literally. Vicki (Jaden Lebel) brings home Kyle (Matthew Broussard) for the night. The morning after is when things get awkward, as once Vicki wakes up, she sees Kyle very differently, in fact, entirely unrecognizable: Kyle is now a bright magenta puppet with an orange nose.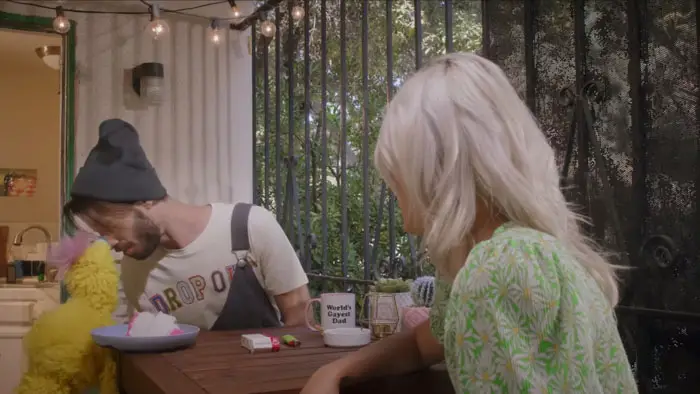 "…Kyle is now a bright magenta puppet…"
At this point, Vicki begins to question her choices on bringing home Kyle and whether on not to pursue anything further with him. Needing some advice, she goes to a dear friend, Dale (Daniel Rugg-Webb). As she explains her gripes about Kyle to Dale, Dale gives his two cents about relationships and brings up his relationship with his boyfriend, who happens to be… you guessed it… a puppet.
Play Date has some quirkiness to it, as any puppet/human project would have. Yet, it does not allow itself to go overboard with the raunchiness as The Happytime Murders did. When it comes to the idea of the story, it actually makes sense because it stays simple. The twist is that Vicki sees Kyle as a puppet, but it is just a simple metaphor for seeing someone's flaws or real self, depending on your perspective. The comedy of the short is solid and consistent. It is funny in human-to-human scenes but also equally as amusing when the actors interact with the puppets. With a short film like this, you will not waste your time watching it.