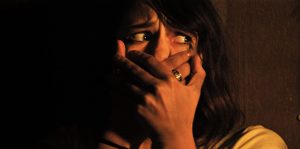 Penance Lane begins when a mysterious drifter arrives in the town of Chesterton, fresh from the pokey, in search of work. Almost immediately, he presents an "I am not to be messed with" temperament when, by happenstance, he witnesses a young man in a pickup truck smacking his girlfriend. The drifter easily tosses the young man from the vehicle and gives him a frighteningly inimitable talking-to. This drifter is the kind of guy you want to either entirely avoid or become your best friend.
But while pleasant and cordial enough, the drifter, who goes by the spectacular name of Crimson Matthews (Tyler Mane), prefers his solitude. Upon grabbing a cup of coffee at the Grits n' Fixin's coffee shop, Matthews formally meets Sherry (Scout Compton), the young woman from the truck. Sherry is a waitress at the restaurant while her mother, Jan (April Bogenschutz), runs the place. Jan is appreciative of Matthews having saved her daughter from her abusive boyfriend, and is none too discreetly smitten with the brooding newcomer. However, he politely rebuffs her come-ons, instead focusing on the job advertised on a 'Help Wanted' notice displayed in the shop window.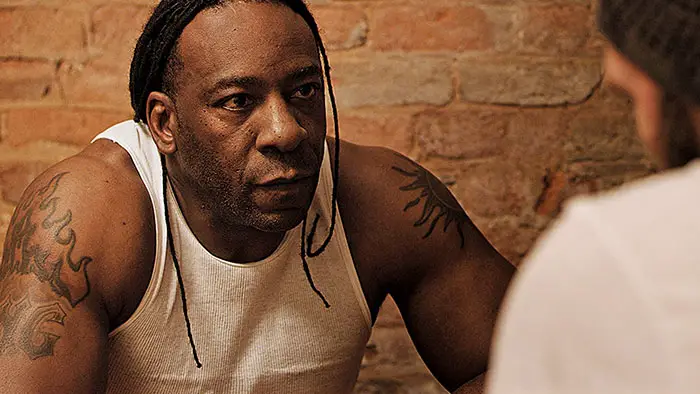 "An unseen force literally sucks the men one-by-one like a vacuum into the dark…"
The job, Matthews eventually learns, involves fixing up a dilapidated old Victorian house on Penance Lane, owned by the suspiciously affable, Father John (an excellent John Schneider). As an added bonus, whoever lands the job can stay in the house rent-free until the work is complete. It sounds like an ideal situation for a newly minted ex-con eager for a fresh start.
Like the old adage warns us, however, when things sound too good to be true, they usually are. The house, you see, already has occupants, and they are not friendly. Furthermore, Matthews's presence in Chesterton is likely not as serendipitous as it may appear.
While not completely delivering on its grindhouse ambitions, Penance Lane mixes that old chestnut of the "creepy house at the end of the block" with the familiar "family of mutants" horror movie trope and produces an unclean and creepy B-movie funhouse. This is a movie Rob Zombie would love.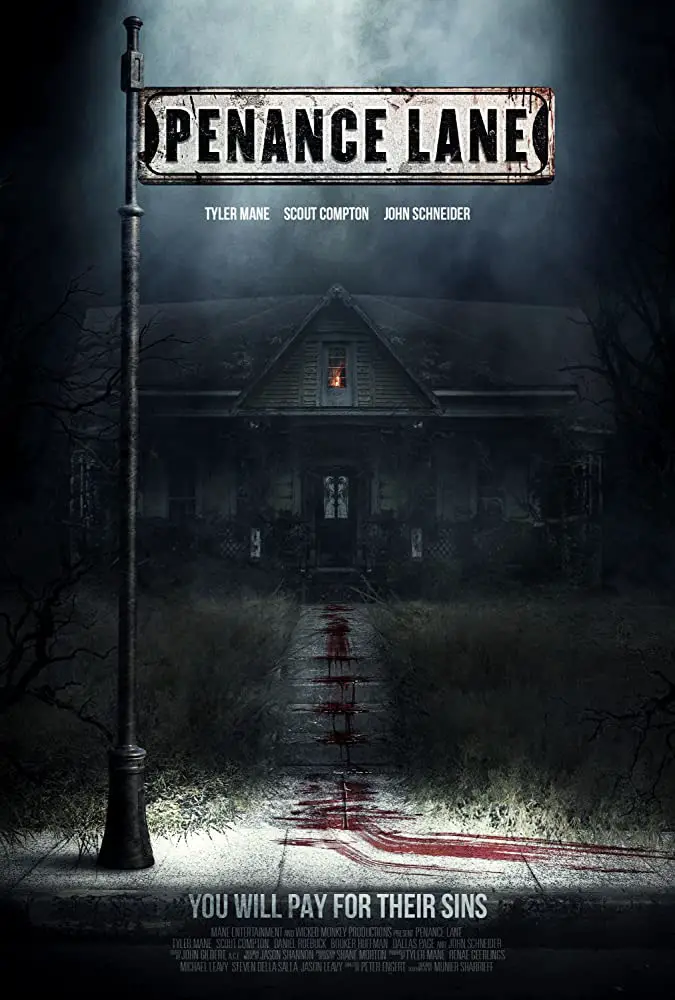 "…instantly engages the audience with a wonderfully scary intro sequence."