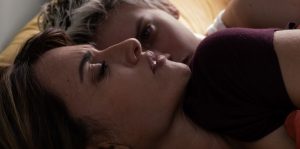 There's little doubt that Pedro Almodóvar is one of our greatest living filmmakers. His work has matured from the flamboyant, colorful comedies of the 1980s and 1990s to the more sophisticated, shrewd examinations of women, sexuality, relationships, and identity, starting with 1999's All About My Mother. A Cannes darling, an auteur in the truest sense of the word, Almodóvar showcases his unparalleled skills once again with Parallel Mothers. This piercing drama marks (arguably) his most accessible feature yet.
The filmmaker reunites with his muse, Penélope Cruz, who plays Janis (named after Janis Joplin by her hippie mother), a fashion photographer. She seeks to excavate her great-grandfather's remains from the shallow grave where Falangists unceremoniously buried him during the Spanish Civil War. She enlists the help of one of her subjects, the dashing Arturo (Israel Elejalde) – and before she knows it, Janis is pregnant with his child. While the married man's not quite ready for the burden of fatherhood, Janis decides to keep the baby. This may be her last chance, after all.
In the hospital, Janis bonds with her roommate, the much younger Ana (Milena Smit). Saddled with daddy issues (her own and her child's), the forlorn Ana doesn't quite share the motherly excitement. A few months pass, and a dark realization settles upon Janis. When she bumps into Ana again, she hires the naïve twenty-something as a nanny. Secrets surface, and the women's fates become inexorably intertwined.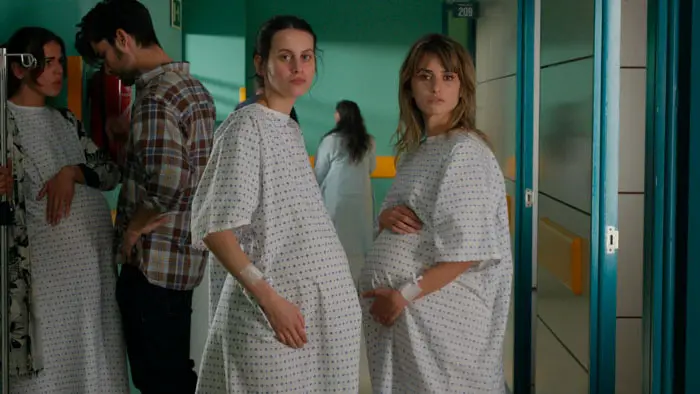 "…the married man's not quite ready for the burden of fatherhood, Janis decides to keep the baby…"
With a deft but light touch, Almodóvar once again explores the bond between women, mothers, and their children. The filmmaker, an ardent feminist, has always focused on strong, self-sufficient female protagonists, and the heroines of Parallel Mothers are no exceptions. Per usual, the writer-director flirts with themes of androgyny and sexual fluidity. He studies what it would be like to choose between your child and your career. There are distinctly political motifs as well. The film's about claiming what's rightfully yours, be it your ancestor's remains from the State or your child from a stranger.
There are no "bad" or "good" people in Almodóvar's world, just flawed human beings trying to do what they believe is right. In a typical Hollywood feature, Arturo would be vilified, demonized as "the shitty father who bounced," perhaps played for laughs – but here, he's an actual three-dimensional character. Arturo voices his opinion quite clearly from the start and makes a mutual decision with Janis. He's there for her when she needs him. Their relationship is based on recognizable traits, like solidarity and compassion.
Of course, the film revolves around its women, and they all deliver. Cruz effortlessly holds the screen in a tricky performance: phlegmatic and ambivalent, radiating charisma and sophistication, making you feel for her despite some morally dubious acts. Smit keeps up, her Ana doe-eyed, traumatized, naïve and broken, but driven enough to reassemble herself. The two other standouts from the splendid cast are Aitana Sánchez-Gijón, who plays Ana's mother, the extremely committed actress Teresa, and Almodóvar mainstay Rossy de Palma, whose stoic, imposing demeanor is always a welcome presence.
Elegant, swiftly paced, by turns heartbreaking and heart-mending, Parallel Mothers brings to mind Hitchcock, from the way the filmmaker utilizes the soundtrack to the masterful building of tension and the heightened melodrama of it all. But it's pure Almodóvar. It's part of what makes him so special because beneath all the histrionics and predictable plot points is a deep complexity, multiple subtleties, a razor-sharp critique. A true master of his craft, Almodóvar is beyond "being pretentious." He's done that long ago. Now he just wears his big, pulsating heart on his sleeve.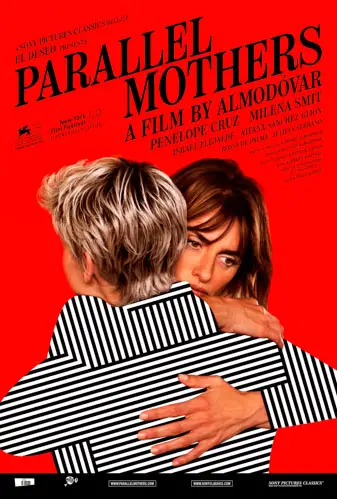 "…elegant, swiftly paced, by turns heartbreaking and heart-mending..."