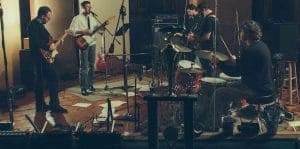 "Why didn't Luxury make it?" one of the many interviewees in Matt Hinton's documentary Parallel Love: The Story of a Band Called Luxury, repeatedly asks, voicing its central quandary. "Did the Christians kill them?" Whether or not the band's affiliation with the religion had any impact on their career (or lack thereof) remains debatable; what's indisputable is the film's curiosity factor – a group of rock-and-rollin' priests – and its entertainment value. It may not provide any stunning revelations about the perils/allure of fame or religion, but Hinton keeps up the energetic pace, and the music is actually not bad.
Parallel Love itself is resolute about emphasizing how exceptional the band was. A self-congratulatory vibe permeates the film. "Explosive," "stunning," "one of the best live shows I've attended," "completely punk in spirit," "a great live band, they kill everybody," "the Smiths meets Fugazi," "sound like liquid" – these are just a few of the snippets provided by the film's talking heads, which consist mostly of other obscure bands, small record label owners, friends and family. Luxury members themselves are more self-effacing. "I'm always surprised when people say they like our music," frontman Lee Bozeman states modestly. "And I don't believe them."
"Luxury's somewhat controversial, ahead-of-their-time songs challenged gender stereotypes…"
Representing a "blue collar, punk rock ethic," Luxury first came together in Georgia in the early-1990's (back then known as The Shroud), when grunge, as well as Christian music, was taking off. Unlike other rock and punk bands of the era, Luxury had a soulful, tender side that attracted young women to their grimy shows; the handsome, "sassy, cocky" lead singer making prolonged eye contact with them surely didn't hurt. Sounding a bit like Muse – "No one should be singing this prettily over guitars that are lunging at me this way," says Vice music critic J. Edward Keyes – Luxury's somewhat controversial, ahead-of-their-time songs challenged gender stereotypes, made more provocative by Lee's own ambiguous sexuality (at least on stage) and unabashed charisma. "I would consider it a queer record, even though they're straight guys," one of the interviewees says.
Two years after getting together, "things started really clicking," the band recording cassette releases and performing at large Christian festival venues. Despite some controversy, they signed a deal with Tooth & Nail Records, an "alternative Christian" label, and released their first record, consequently sold at Christian bookstores. When the release failed to make a dent, the band (sort of) blamed the label and (sort of) attempted to break out of the Christian market. "There was no way to classify [Luxury] as Christian," says one adoring fan. And yet they enthusiastically accepted the invitation to perform "an epic show" at Cornerstone, a Christian music festival put on by Jesus People USA.
On the way back from that festival, tragedy struck: a terrible car accident severely injured two band members, and almost killed Lee, leaving him with broken ribs, punctured lungs, amongst a plethora of other scars. In the wake of the accident, the band had time to reflect upon their priorities, questioning the meaning of fame and their own faith (which the film barely touches upon). After a year of recovery, they regrouped to record more music and go on a tour – but their relationship with Tooth & Nail soured, drummer Glenn started having seizures caused by childhood trauma, and sales – what little there were – plummeted.  Three band members ended up becoming priests, reuniting to perform together after years of separation. The last 20 minutes of the doc somewhat jarringly shifts from rockumentary to a sympathetic study of the redemptive powers of the clergy.
"Parallel Love does its title justice, duly drawing said parallels between rock music and Christian faith."
Parallel Love does its title justice, duly drawing said parallels between rock music and Christian faith. "What I found in punk rock is that people believed in it whole-heartedly," says one interviewee. That said, its own stance on whether its Christian affiliations, caused the band's eventual downfall (if there ever was an ascent), remains as ambiguous as Lee's on-stage sexuality. The doc treads carefully around the subject of the perils of devout faith, making it seem like the men wholeheartedly welcomed priesthood – yet a bitter undercurrent runs throughout, a subliminal what if? (What if the band signed with a non-Christian label?)
So why didn't Luxury make it? Matt Hilton's doc never really answers that question. Don't expect a probing study about achieving fame, regret, faith, and atonement. Little is revealed about the bureaucracy of the music business or the implications of the faith-based genre. While Lee's sexually-charged, vaguely homoerotic lyrics are emphasized on-screen, their connection to all things holy remains an intriguing mystery. Parallel Love is exactly what it says it is: a slight, diverting story of a band called Luxury, that happens to have some rockin' priests in it.
Parallel Love: The Story of a Band Called Luxury (2019) Written and Directed by Matt Hilton. Featuring Lee Bozeman, Glenn Black, Jamey Bozeman, Chris Foley, Matt Hinton
6 out of 10