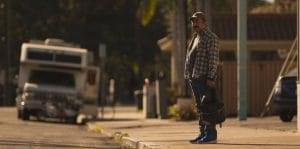 Being a Los Angeles resident, I frequently run across Latino migrant workers. They stand outside Home Depots in groups – sometimes in sweltering heat – looking for work…mostly hard, manual labor. How fascinating must the stories behind their plights be, both heartbreaking and inspirational – yet they are rarely heard, much less represented by Hollywood.
The focus of filmmaker Jon Butler's latest dramedy, Papi Chulo, lies primarily on a friendship between a migrant worker and an affluent, gay white man, assuming the perspective of the latter as opposed to delving deep into the trials and tribulations of the former. Yet Butler and his leads compensate by providing a few glimpses into the lives of those that society continuously shuns.
Matt Bomer and Alejandro Patiño, who play the two leads, have a chemistry that brings to mind Tom McCarthy's superior studies of seemingly disparate characters bonding against all odds, The Station Agent and The Visitor. That unlikely companionship – the heart of Butler's film – goes a long way to make up for other lags: underdeveloped secondary characters and a few misjudged sequences that unwittingly titter on the brink of "racist."
"…lies primarily on a friendship between a migrant worker and an affluent, gay white man…"
Recently divorced, hunky South California weatherman Sean (Bomer) has a nervous meltdown during one of his live forecasts. His boss Ash (Wendi McLendon-Covey) urges him to take a break, making him go back to his gorgeous but hollow house overlooking a mountainous landscape. Traumatized and lonely, Sean decides to re-paint his deck, yet his privileged white hands have never touched a paintbrush before, so he seeks to enlist the help of one of the workers he drives by every day, Ernesto (Patiño).
Seeing an uncanny resemblance to his ex in Ernesto – but also seeking a deeply human bond that transcends language and cultural differences – Sean pays the older man to keep him company first, paint later. He takes the increasingly guilty-feeling Ernesto out on boat rides and hikes, gushing about Yelp reviews, depression and love life, all the while becoming borderline-obsessed with the mustachioed introvert. Sean's homosexuality is somewhat novel to the more traditional Ernesto, just as Ernesto's working-class predicaments are unfamiliar to the rich Sean.
"He's my friend," Sean stammers defensively to a blatantly racist douche at one point. "I mean, he speaks perfectly good English, so…" Aside from the fact that Sean could use a lesson or two in grammar himself, the fact that he even feels the need to justify hanging out with an older Latino man renders this sequence uncomfortable. Butler's heart is in the right place, but moments like Ernesto being mistaken for another worker by an ignorant a*****e are inadvertent reminders that Ernesto as a character isn't nearly as fleshed out as Sean. He's provided with little backstory or motivation, serving primarily as fodder for the white man to achieve redemption.
"Bomer as the lead lives up to the task, both vulnerable, relatable and awkward – and a little bit creepy…"
Good thing Alejandro Patiño is such a formidable on-screen presence. He imbues Ernesto with an aura that transcends stereotypes; it's a "read-between-the-lines," commanding performance. His frequent updates to wife Linda – from "Honey, I'm on a boat, rowing this gringo" to "Honey, a man kissed me on the mouth" – are priceless. I loved the simplicity and emotion of the scene where Ernesto waits for Sean to leave the house, then plays some Mariachi music on the radio – sweet sounds of home and reminders of his identity.
Bomer as the lead lives up to the task, both vulnerable, relatable and awkward – and a little bit creepy. Highly keen to fill an irreplaceable gap upon discovering a doppelganger, he oversteps boundaries but manages to make us root for him despite the neurotic behavior. The film achieves moments of splendor in moments such as when he and Ernesto are jamming out to Madonna in the back of a car. The rest of the talented cast – particularly the splendid D'Arcy Carden and Wendi McLendon-Covey – is criminally underused.
Butler's film has quite a few things going for it. It deals with the healing power of human interaction, undeterred by inherent disparities. He and his cinematographer Cathal Watters took a cue from J.J. Abrams and infused most scenes of a drought-stricken Los Angeles, a city as overly-populated as it is alienating and lonely, with effective, scorching lens flare. "You think L.A. is haunted?" Sean says, in a lyrical bit of dialogue. "You can feel it, layer upon layer of sadness, settling in like rudimentary rock." I wish Butler probed Ernesto's side of the story as succinctly, poetically, and insightfully.
Papi Chulo (2019) Written and Directed by John Butler. Starring Matt Bomer, Alejandro Patiño, D'Arcy Carden, Wendi McLendon-Covey, Elena Campbell-Martinez, Ryan Guzman.
6 out of 10