SLAMDANCE 2020 SHORT FILM REVIEW! I absolutely love when filmmakers find ways of merging the familiar with the alien, to produce a profoundly uncanny vision. The debates sparked amongst audiences in the wake of such works are part of the fun, as typically, there are numerous themes for continued discourse. In the case of Kyle Sims' short film oddity Our Boy, I would advise not seeking out any further information before watching it. As doing so will spoil any fascinating thematic conversations to follow.
The enigmatic short film follows a boy (Ryan Herzog) who continually attempts to escape his parents (Christine Herzog and Mike Dugan). He also tries to avoid his neighbors, all of whom are crippled and wobble about on canes and crutches. Some even use wheelchairs, and for undisclosed reasons, all of them want this boy. Beginning his day tied to a lead in the front lawn, soon many of the townspeople gather to conduct an ominous ritual. The ritual involves an oversized suit, a ball-peen hammer, and a twisted definition of becoming an adult.
At first, I considered the film to be a veiled statement on pets, based on the opening scene and the boy's attempts to pull away from his confinement. Then my perspective shifted abruptly, and I was immediately convinced the central motif was about the stigmatization of mental illness (such as dementia). This idea is made even stronger due to how the characters behave towards the titular teen.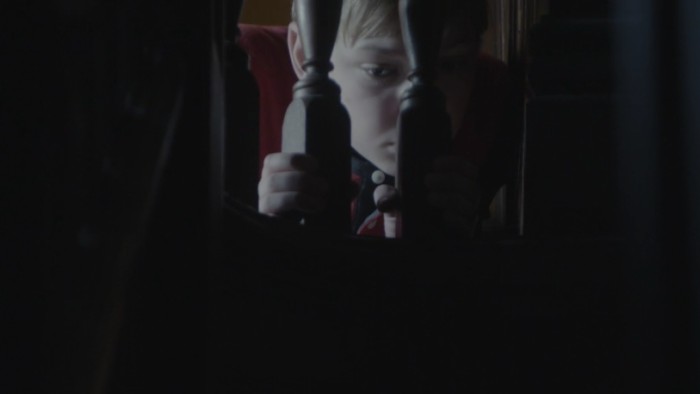 "…a boy who continually attempts to escape his parents…He also tries to avoid his neighbors…"
However, after the brief 13-minute film had reached its halfway point, all of my preconceptions had gone out the window. It felt like I was watching a hybrid of Hereditary and the "Eye of the Beholder" episode of The Twilight Zone. Although that does not capture the full essence of the story either.
Even though I now know some additional details of the central allegory Sims evolved his ideas from, I still find Our Boy oozing with bizarre stylistic choices and an oblique narrative which I just love; and love to ponder over. While simplistic in its progression, the filmmakers manage to pack in a considerable amount of nuance and emotion in an extraordinarily short span of time. All of this is bolstered by highly muted, yet thoroughly convincing performances by its non-professional cast, which further compound the wonderful weirdness flowing from every scene.
Our Boy may not be for everyone, but that doesn't mean that everyone shouldn't see it. All of you absolutely should.
Our Boy screened at the 2020 Slamdance Film Festival.
"…...a twisted definition of becoming an adult."