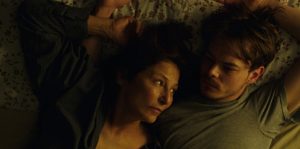 TRIBECA FILM FESTIVAL 2021 REVIEW! No Future follows Will (Charlie Heaton), a recovering addict who struggles to stay clean and emotionally healthy. One night, his estranged friend Chris (Jefferson White) visits in hopes of reigniting their friendship. Unlike Will, Chris is not, or can not, uphold his sobriety or recognize his place in society without drugs. Trying to remain clean and with his supportive girlfriend, Becca (Rosa Salazar), by his side, Will gently urges Chris to leave, seemingly convinced that his presence and inability to be sober will impede his fight with addiction.
The following day Will learns that Chris died from an overdose, which compels him to return home only to be confronted by the devastation left in his wake. After returning, Will reconnects with Chris's grief-stricken mother, Claire (Catherine Keener). Will and Claire's shared mourning morphs into an abnormal affair. Complications and rationalizations arise as a result of their unusually evolving relationship, forcing them to face the varying levels of grief and responsibility they both feel.
Early on in No Future, Chris asks Will a weighty question: "Do you think people like us ever really change?" While the drama refrains from answering the question, co-directors Andrew Irvine and Mark Smoot (who also wrote the project) effectively examine the ramifications of addiction and the struggle with sobriety when grief is involved. Substance use disorder is serious and impacts a person's behavior and thinking, pressuring them to live their lives differently to accommodate their addiction. Quitting an addiction is never easy, considering the severe withdrawal symptoms. Even if one manages to power through the withdrawal symptoms and practice sobriety, loved ones caught in the crosshairs could have been affected, thus causing irrevocable damage to their relationship.
"…Will learns that Chris died from an overdose, which compels him to return home…"
Slowly-paced and intimately told, the film does not underplay the unpredictable process of grief experienced by two innately different people. Smoot's screenplay juggles Wil's multiple relationships with Becca, Claire, Chris, and his father and purposefully, albeit frustratingly, leaves some threads unresolved. By and large, the movie foregrounds the relationship between Will and Claire in hopes of depicting how grief often manifests itself in unexpected ways. Becca, played by an empathetic Salazar, does what she can to support Will, but, unbeknownst to Becca, he is unable to distance himself from Claire because of their feelings of guilt and regret. To convey that Will and Claire's relationship is fairly off-center, Jomo Fray's outstanding cinematography regularly frames the subjects on the right side or left side of the shot, obstructing the view by placing the camera next to a doorway looking in at the subjects.
For Claire, she didn't get to say goodbye to her son, who overdosed in the room next to hers. Was the overdose an accident or deliberate? Claire will never know the answer, which is maddening, but that ambiguity is a part of life and fuels her desire to reconnect with someone who knew her son well. Yet, not everyone can be saved, a realization that emerges in the exceptionally bleak conclusion which prompts an unavoidable confrontation that is surprisingly natural. In fact, every divulgence is delivered organically with genuine weight and real consequence.
Smoot and Irvine appreciate an exceedingly solemn tone and a measured pace. No Future is unassuming, truthful, and absorbing by virtue of the deeply sensitive performances from Charlie Heaton, who exercises rigid body language and a weary demeanor, and Catherine Keener, whose sadness and shock are softly expressed. Paired with Fray's cinematography and Jon Natchez's dramatic score, the drama is subtly intense and emotionally potent. The filmmakers capture the anguish of addiction for addicts and their loved ones alike, all the while seeking an explanation for a tragedy that could have possibly been prevented.
No Future screened 2021 Tribeca Film Festival.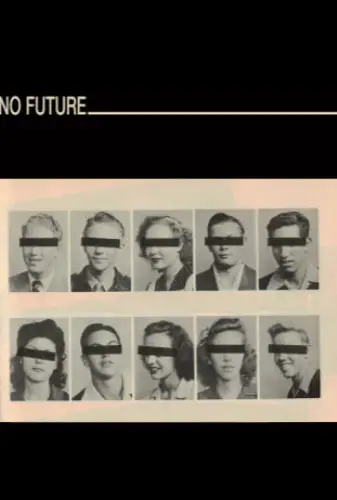 "…unassuming, truthful, and absorbing..."