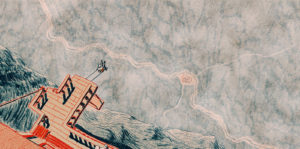 PALM SPRINGS SHORTFEST 2023 REVIEW! Writer-director Joao Gonzales's Ice Merchants places the viewer into a beautifully hand-drawn world of a father and young son living on the side of a giant ice mountain. It is a world where it's entirely normal for the pair to sell their ice to a local village via base jumping from their house and parachuting into town.
Despite the fantastical elements and freezing temperature, the animated short feels very real and fosters a warm, loving connection between the audience and its silent characters. The father and son sell their ice. They parachute and even buy motorbikes. We watch the precious existence they have carved for themselves on the edge of destruction. But as temperatures rise, the father and son soon realize their humble way of life is in jeopardy.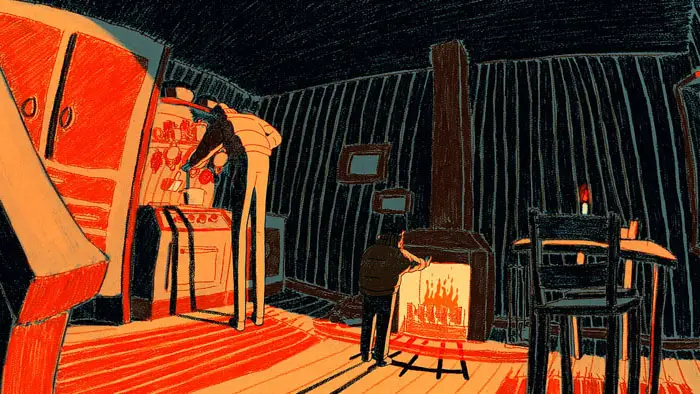 "…as temperatures rise, the father and son soon realize their humble way of life is in jeopardy."
The animation and art style of Ice Merchants is immediately mesmerizing. Deep reds, icy blues, and blankets of white pop off the screen, blending to create a vibrant pallet. There is no dialogue throughout the film, yet Gonzales uses color to convey strong emotions between each character. Unique animation paired with the rich score increases the artistic quality of the film, amplifying the whimsical, adventurous, and even bittersweet feelings at the heart of the story.
Worthy of its Oscar praise, Ice Merchants is a collage of sweet and melancholy moments packed into a 14-minute package. Through montage, we see the father and son live out a fraction of their mountainside life. This builds a foundation for the significant moments to come while allowing those watching to imagine all the little moments that went into drawing, writing, and creating these parachuting ice merchants. The breathtaking visuals and expression of characters through color are incredible. It's simple in premise, just a father and son selling ice, but in execution, the film is spellbinding and wholesome to its core.
Ice Merchants screened at the 2023 Palm Springs ShortFest.