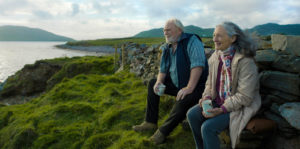 Older people need love stories too. Just as important as that foundational adage is the need for these stories to be represented in the arts. In history, love stories have largely been the domain of the young and beautiful, but as of late, we've seen a resurgence in tales of older couples. Count me among those who welcome films like director Klaus Härö's My Sailor, My Love which eschew the trappings of the cynicism inherent in modern dating culture. This is a film about two people approaching love without any illusions — and that makes it more potent.
James Cosmo plays gruff widower Howard, a career mariner forced to retire because of worsening health conditions. Holed up in his empty house (a dwelling with a decidedly nautical aesthetic) on the coast in rural Ireland, he spends his days by himself doing crossword puzzles in a poorly lit living room. His troubled daughter Grace (Catherine Walker) is in the midst of a crumbling marriage, and the complicated history of her childhood hampers her relationship with her father. Seeking any kind of help in improving the state of her father's condition, she hires Annie (Brid Brennan), an older widow, to help maintain Howard's crumbling abode. Annie breaks through Howard's harshness, and the two overcome their complicated pasts and begin a touching romance, much to the chagrin of Grace.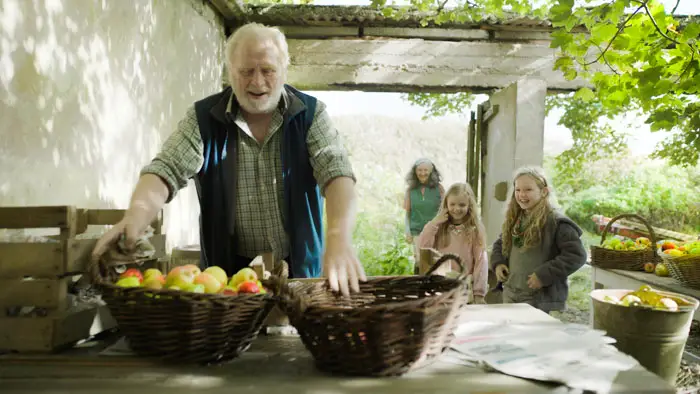 "…two overcome their complicated pasts and begin a touching romance…"
My Sailor, My Love grows on the viewer. Nothing revolutionary is introduced formally, but Härö's unobtrusive direction allows the stars at the center of this three-hander to take control. All three are fantastic. Most American viewers will remember Cosmo through his work on Game of Thrones and Braveheart, but his controlled, nuanced performance as Howard will take them off-guard if they're only used to him as a performer without obvious emotional vulnerability. Brennan, too, is remarkable as Annie, a soft presence nevertheless ready to stand up for what she wants. We can't forget about Catherine Walker as Grace, who provides her character with a nervous, unstable energy that will come to a head on more than one occasion.
The film is a joy to look at as well. Much of the film takes place in or around picturesque coastal locales in Ireland, and DP Robert Nordström makes excellent use of his setting, effectively tying the blue/grey coastal tones to Howard's home before the warmth of Annie brightens her doorway (note the introduction of warmer color tones upon her entrance into his life). One wouldn't normally see these details in more rote entries in the romance genre.
It's refreshing to see mature love stories thrive on the silver screen. My Sailor, My Love lacks the idealistic naivete that anchors so many romances about younger people, and this makes it more relatable in the long run. Everyone has a past, and some of it is messier than one would like, but Howard and Annie use it to make their current selves stronger and more accepting. Härö's film is sentimental but rarely does the sentiment seem forced or inorganic.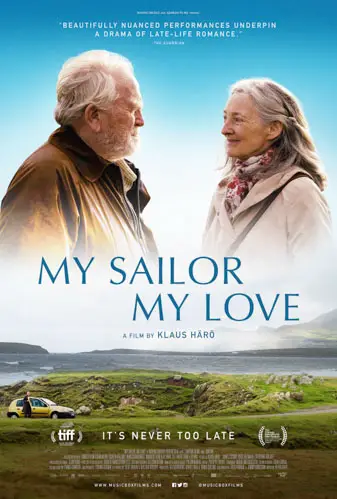 "…refreshing to see mature love stories thrive on the silver screen..."