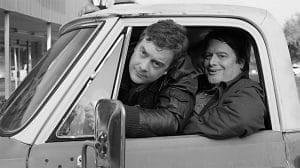 Macon Blair didn't waste time showing he's more than just the star of Jeremy Saulnier's wicked cool Blue Ruin. Earlier this year, his feature film directorial debut I Don't Feel at Home in This World Anymore had its world premiere at the Sundance Film Festival, where he took home the Dramatic Grand Jury Prize. You can read my review here and see the film, now on Netflix; it was just as much fun watching the film as is it was writing about it. And recently, it was announced he's adapting William Giraldi's Hold the Dark with frequent collaborator Saulnier taking the director's chair, which means keep this on your radar. In short, Blair's on fire, and it makes me happy because his imagination will be a major benefit the film world. He's sharp and original and deserves all the success coming his way.
He's back as leading man in Craig Elrod's poignant and hilarious story of brotherhood and finding love in a hungry place, Mustang Island.
Blair stars as Bill, and Bill's girlfriend just left him. We assume he got dumped, but by the slack-jawed look on his face, what he was just told was pretty jarring. It's New Year's Eve, the time you kiss the one you love at midnight, but Bill is now all alone.
He leaves the party, and while bawling on his way home, he crashes into a parked boat. I'm not the smartest man around town, but I'm pretty confident not many people on this earth can add this to the resume under "skills." This moment defines the nature of Bill and his luck (or lack thereof). He's the kind of guy that doesn't need to search for misfortune, it will find him. If there were a pile of dogshit clear of Bill's walking path, the universe would somehow find a way for him to step in it.
"…an organic and delightful atmosphere for us while we spend time with the three stooges."
Without wheels and a peaceful heart; he goes to see his brother John (John Merriman, a face always pleasing to see on film) and John's roommate Travis (the naturally funny Jason Newman). The trio embark off to Mustang Island, where Bill learns his recent ex is staying. Mission: Impossible – Win Her Back is underway.
There's a lot more to Mustang Island than trying to win the girl back. It does hit familiar territory, and that's because the situations Bill puts him and his brother in happen to sad suckers every day. The really bad juju Bill carries with him we've all experienced. There are a number of awkward and wacky moments Bill experiences that I can relate to, mostly notably crying in the car when a bag of dicks pull up next tome, clearly laughing at my broken heart and maniacal scream-crying face.
While at a diner, Bill meets — and accidentally falls for — their waitress, Lee (Blair's real-life wife and a very talented comedian, Lee Eddy). Their journey together for the duration of this film is what makes it something really special. We're shown the clumsy and raw side of spending time with someone new. Bill and Lee's newfound romance is something I yearn in a relationship. They're too goofballs who appreciate one another's oddities and bad luck from the start. I love it. It's a fresh reminder that that's what I want in a relationship because it's not perfect and doesn't try to be. Nothing is perfect (except for Back to the Future), and everyone is flawed. Most of the time, you don't see someone's flaws until after knowing them for a long time. Lee and Bill show it right from the start. It's beautiful.
Mustang Island was written by Elrod and Nathan Smith, who both must know the unpleasant and often comical pains of trying to move on, and the "why me?" s**t luck that comes with trying to get over an ex. They create an organic and delightful atmosphere for us while we spend time with the three stooges. Mustang Island is in black and white. But don't be fooled it's just to be artsy; there's a very clear reason why Elrod chose this format — love is never simple. (Very clever.)
Before I'm off, I've got to talk about Blair, who never fails to impress as the lead. His eyes wear an exhausted child-like innocence, and his inadvertent charming behavior fueled with moxie are traits he carries and will be able to use to his advantage in every role he takes, whether as an antihero, villain, or the good guy who means well. These qualities Blair bears is a colossal part of Blue Ruin's massive success, and what makes Mustang Island a lovely and gratifying experience.
Mustang Island recently screened at the Dallas International Film Festival.
Mustang Island (2017) Co-written and Directed by: Craig Elrod. Starring: Macon Blair, John Merriman, Lee Eddy
Rating: B