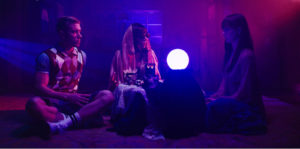 Murder, Anyone? started out as a play by Gordon Bressack, the Emmy-winning writer of Pinky and the Brain, among several other childhood gold standards. Before tragically dying far too early (the man wasn't even 70), he had adapted quite a few of his plays into screenplays. So, as a way of honoring his father, the writer's son, prolific filmmaker James Cullen Bressack has turned the comedic murder mystery into a very meta-film narrative.
The film follows two writers, George (Maurice LaMarche) and Charlie (Charles M. Howell IV), as they attempt to write a play. Or is it a film they're working on? Either way, the film transitions from the black-and-white writing room to the colorful story of intrigue murder the two are working on. Said story involves the mysterious Cooper (Kristos Andrews), who is now residing with his wealthy great-uncle and aunt.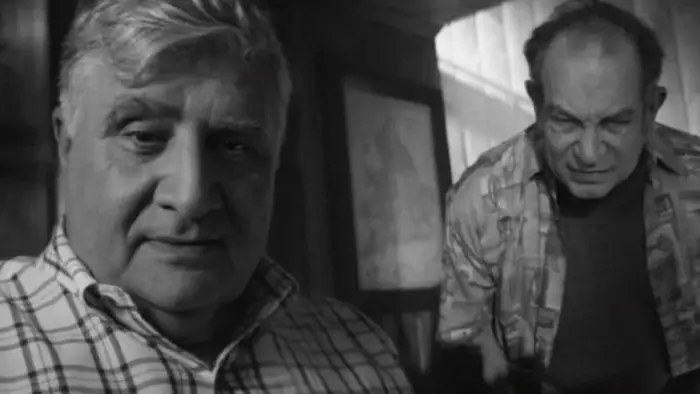 "Can George and Charlie see eye-to-eye long enough to finish their play film?"
The British cricket player (or is he an American tennis athlete?) soon meets his neighbor, Bridgette (Galadriel Stineman), and the two very attractive folks seem to get along quite well. But then, a man in a chicken costume comes barging through the door. It turns out this person, Blain (Spencer Breslin), has arrived a day early for the costume party. But wait! Blain and Cooper have a history and are possibly scheming for… to get… something or another for this or that reason. Can George and Charlie see eye-to-eye long enough to finish their play film?
James Cullen Bressack started out making intense horror films before venturing into thrilling action titles. While there's an outlier or two (a drama and a children's animated film specifically), the filmmaker has grasped for something new to him with Murder, Anyone? This is a full-on humorous meta-commentary on both the creative process and the nature of mystery stories. Early on, the writers make everyone British, then change their minds. Their back-and-forth is hilarious, as Geroge and Charlie attempt to get on the same page in the most literal sense. Bressack stages it all with aplomb and shows a natural flair for comedy, which some recent big-name directors have failed to do in the worst ways.
"…a loving tribute from a caring son to his father."