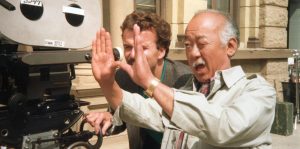 Growing up in the 1970s and 80s, there weren't many Asian actors, or, as they say, "people who look like me," in film or television. For me, I could count them on one hand. This fact should come as no surprise. There was Bruce Lee, James Hong, and the subject of Kevin Derek's documentary, More Than Miyagi, Pat Morita. You know him as Mr. Miyagi in The Karate Kid series and as Al on Happy Days. But his life is a much broader story of the struggle for Asians in Hollywood.
Pat Morita was born in 1932 in Northern California. He suffered from spinal tuberculosis that put him in a full-body cast for most of his childhood. Thanks to the Shriners, Morita received experimental surgery that allowed him to function as an average person. Once he left the hospital, the young Morita was escorted by the FBI to an internment camp for the duration of World War II.
After the war, Morita would forego college to help his parents run their Chinese restaurant (yes, a Chinese restaurant), and it's here that Morita entered the world of stand-up comedy. He was good, and when he moved to L.A., his agent/manager Sally Marr immediately began booking him in movies and television, including Thoroughly Modern Millie, Laugh-in, and M*A*S*H.
It would be a disservice to say Morita's career was pretty typical for Asian actors, only because he was one of a small handful; therefore, he was treading new ground. Morita's good nature and enthusiasm for entertainment presented nothing but opportunity—not necessarily the best opportunities, but opportunities nonetheless. When Happy Days was on the verge of cancellation after the second season, Gary Marshall took a risk and cast Morita as the iconic Al of Al's Diner. He almost lost the job because the character was Chinese, and Morita was Japanese; a hilarious and ironic story.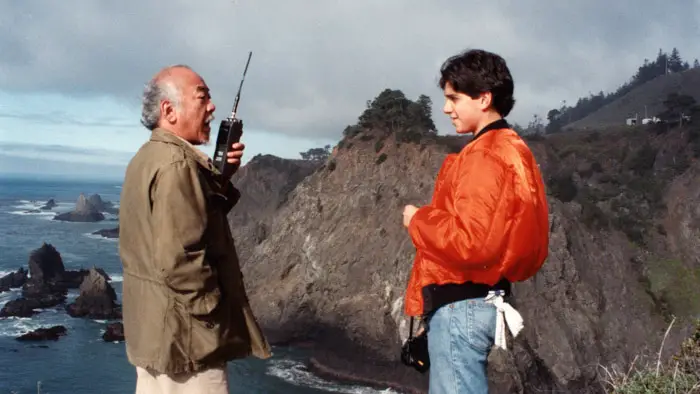 "Morita's good nature and enthusiasm for entertainment presented nothing but opportunity—not necessarily the best opportunities…"
I'll keep hitting on the term "pioneer" when it comes to Morita. His success was both a blessing and a curse. Why did Morita leave Happy Days after a few seasons? Because ABC gave him his own television series—the first for an Asian-American. Of course, the series failed after four-episodes, and he was back to square one, unable to return to Happy Days.
More Than Miyagi is a celebration of Pat Morita's life, and there is a plethora of source material presented in the documentary. The film features countless interviews with the man himself. Most of his appearances in movies and television still exist today. It also helped that Morita never burned bridges. He had a lot of friends more than willing to talk about his character and greatness, including his wife, Evelyn; Happy Days co-stars Henry Winkler, Marion Ross, Donny Most, Anson Williams, and almost the entire cast of The Karate Kid with Ralph Macchio, William Zabka, and Martin Kove.
Pat Morita's life was so rich that the documentary has barely reached the half-way point when we get to The Karate Kid days. His friend James Hong talks about how tough it was breaking into acting for Asians when many roles went to white actors in "Yellow Face." Morita recounts how disheartening it was then to be given bit-parts as stereotypical "Chinamen" and then the frustration of typecasting that almost lost him the role as Mr. Miyagi.
The film ends with this fairytale romance and marriage to his wife, Evelyn, and his lifelong bout with alcoholism. There's a heartbreaking story of how Morita's drinking kept him from being appropriately honored on the Happy Days 30th reunion show.
More Than Miyagi is an engaging documentary about one of the nicest people in Hollywood. One of the few actors Asian-Americans can point to as paving the way (not that the door is entirely open today). I've never made a documentary, but I would imagine director Kevin Derek had an easy time piecing together Mortia's life with all the material available and support from his circle of friends.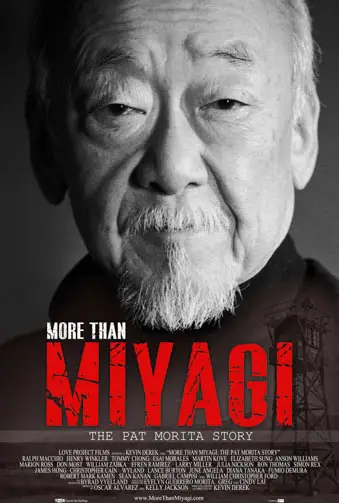 "…typecasting that almost lost him the role as Mr. Miyagi."