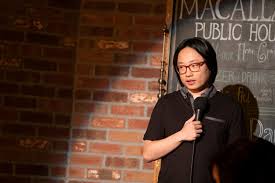 I have a great deal of admiration for stand-up comedians. I've been a fan of stand-up since its boom in the 1980s. I lived near the Comedy & Magic Club in Hermosa Beach and was there a lot. I've done improv comedy at various Improv. I know all too well what it feels like to bomb, often, on stage. It's an odd career to call your own, and comedian Steve Byrne brings his experience as a stand-up to the silver screen in The Opening Act.
Will Chu (Jimmy O. Yang) is living a pretty good life. He has a stable job, liked by his boss (Bill Burr), and Debby Ryan is his girlfriend. How great is that? But Will is willing to give it all up (except the girlfriend) for a career as a stand-up comedian. Will is tearing it up at his local club, though still a little green, and then the opportunity of a lifetime presents itself. Will's buddy, Quinn (Ken Jeong), needs a replacement for a hosting gig at a nearby Improv, and he recommended Will.
The rest of the film is Will's experience finally making it to the majors for the first time. When he arrives, he meets club manager Chip (Neal Brennan), who gives him the keys to the condo, warns him about his insane roommate, Chris (Alex Moffat), and a three-strikes warning against screwing up and embarrassing the club.
The first night is met with mixed results as Will kills it on stage but embarrasses himself to his idol, Billy G (Cedric the Entertainer), by screwing up Billy's intro. After the show, Chris needs him to be a wingman at a nightclub, which leads to disastrous results with a cop's half-naked wife.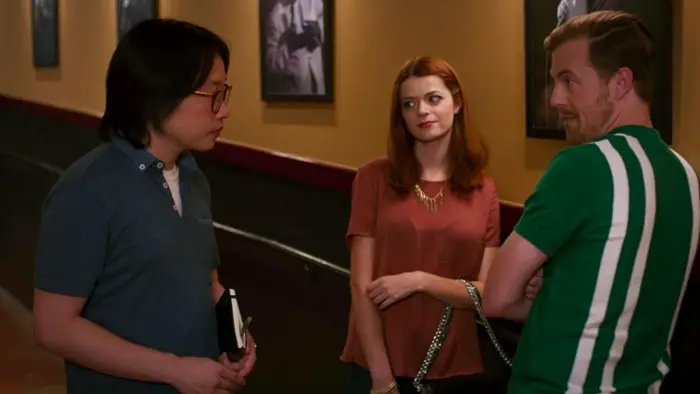 "…tearing it up at his local club, but still a little green, and then the opportunity of a lifetime presents itself."
When a character is given a three-strikes warning, you know that by the end of the second act, he already has three strikes against him. By that second act, Will will have gone through the entire gamut of every comedian's worst nightmares—both on and off-stage. After the success of his first night, Will changes his routine up and dies a horrible death.
The Opening Act is not a stand-up comedy movie but a story about the life of a stand-up, including their struggle with life on the road, politics of comedy clubs, confrontations with hecklers, and that inner struggle to keep going and keep growing. If you listen to Chris Gore's interview with writer/director Steve Byrne, you see that The Opening Act is a love story to his career of choice and how this life has made him grow both personally and professionally.
The cast is a who's who of stand-up, including Whitney Cummings, Iliza Shlesinger, and Russell Peters, to name a few. This was a brilliant move as these veterans of comedy know enough about Steve's story to portray it on screen. Most of these cameos are straight dramatic roles that rarely (and thankfully) become wacky bits and sketches.
I will say that others may not share my love of the film. It's clear that The Opening Act is done by stand-ups for stand-ups, which may narrow the movie's appeal. It's very inside baseball. If you're not a fan of stand-up comedy, this may not be for you. For Steve Byrne's first feature film, the adage is still true—"write what you know."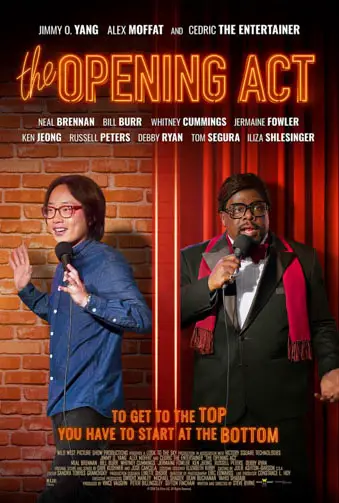 "…done by stand-ups for stand-ups..."