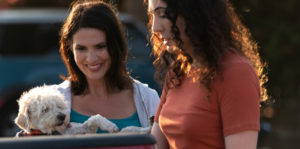 The moon has been an icon associated with cinema since its inception, like the whimsical A Trip to The Moon. It can also be a place of awe and spectacle, as in 2001: A Space Odyssey and First Man. Writer-director Toy Lei's Moon uses the moon to deal with the struggles of grief. The story follows Kate (Kelsey Gunn) as she must overcome an unexpected death while recounting her experience on the moon to her husband, Alex (Mousa Hussein Kraish). There is a constant switch between flashbacks and Kate narrating her lunar experience. Alex asks her about the moon while sitting in the backyard at night. She excitedly recalls random stuff like the food she ate there.
At the same time, Kate's demeanor turns tense when she slowly remembers what happened. Her repressed memories of a drug overdose and being rushed to the hospital appear fragmented. Simultaneously, she is denying the truth behind those moments. Finally, Kate shows her vulnerability. She remembers the moments leading up to her loved one's unexpected death and feels guilty for not getting home on time. What did happen to Kate to make her go to the moon? Is there a place she can find to heal?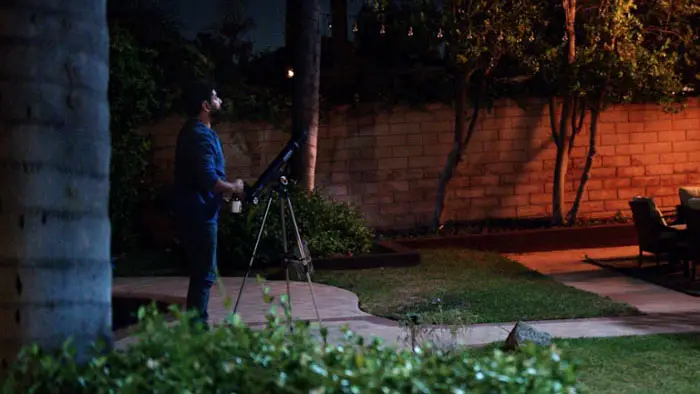 "…recounting her experience on the moon to her husband…"
Lei's dreamlike approach is grounded through the use of practical sets. The moon is handcrafted with a digital backdrop of an imposing Earth expertly created by production designer Robyn Coburn. Coburn's talent makes this location feel serene and happy. A scene that provokes wonder is when Kate opens a water bottle, and its bubbles float right in front of her. The CGI effect adds to the moon's magical nature.
Throughout Moon, Gunn makes Kate feel real with her natural performance. Her green eyes are given several close-ups as we see her pain. Gunn's Kate is grounded through the calm energy of Mousa Hussein Kraish's Alex. His performance makes the husband a balance between humorous and wise.
Moon would be emotionally heavy with another director, but Lei injects it with fantasy and light humor. The mixture of melancholy, hope, and fantasy creates a story that provides a window into handling grief without spiraling into depression. For anyone who has lost a relative or close friend, the film serves as a reminder to keep pushing forward and not let death hold you back.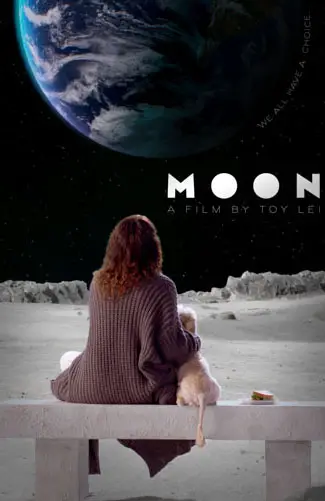 "…provides a window into handling grief..."