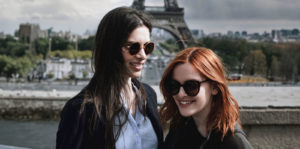 In the stunning and poignant indie drama April Skies, writer-director Pascal Payant concentrates on three characters across three countries. Each one of these people is grieving and agonizing over their future. However, they're more connected than they realize.
April Skies immediately breaks the fourth wall as Zoe (Pauline Nyrls), who lives in Paris, France, tells the audience she's sick with cystic fibrosis. She has less than two years to live, yet she seems unconcerned. Zoe says, "I should be sad. I'm not. I don't know why," and proceeds to ask the audience whether they think she's in denial. It's a somber start, made more forbidding by a numbingly sporadic and plaintive score. Zoe's long-time friend Estelle (Sophie Mousel) is the one person capable of bringing her any semblance of joy.
Vera (Linnea Pihl) exits a subway in Stockholm, Sweden. Dressed professionally and walking sternly, she commands the screen with an aura of confidence. Upon entering an apartment, she finds Liv (Sara Hagno) on the bed. A heated conversation between Vera and Liv informs us of their roles. Liv is a famous Swedish singer who refuses to finish her tour. Vera is her assistant, advising her to talk to her publicist to maintain control over the narrative. Grieving and depressed, Liv rebuffs Vera's attempts to help.
Lara (Svandis Dora Einarsdottir) is wallowing in the serenity of her marshy Icelandic surroundings. "I'm afraid I will become like you," she says while the blustery wind and piercing silence collide with her presence. She's alone with her innermost fears, but she's speaking via voice-over so that we, with the fourth wall still intact, have an idea of how she's processing her grief.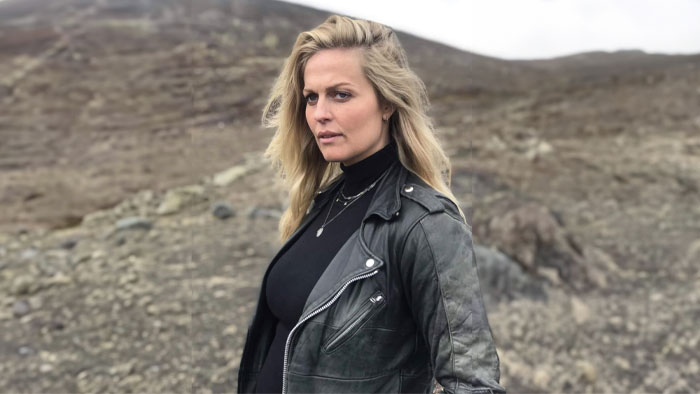 "…Zoe, Liv, and Lara are all struggling but working through their grief."
Throughout April Skies, Zoe, Liv, and Lara are all struggling but working through their grief. Zoe feels like her friend's overly optimistic attitude is bothersome. Payant validates Zoe's feelings by giving her the space to get everything off her chest by breaking the fourth wall. It's understandable to anticipate the worst because there's a chance that things won't improve. However, one can prepare for such a scenario while still retaining a healthy amount of positivity. With a fine blend of severity and vulnerability in both movement and delivery, Nyrls captivates as somebody claiming to have accepted their fate, although deep down, the fear remains.
Liv's tale centers on guilt and emotional maturity. Unlike Zoe, Liv doesn't acknowledge the audience. Instead, Payant masterfully directs the deteriorating dynamic between Liv and Vera. At the height of their quarrel, Liv belittles Vera, and the two outstanding performers steadily inch closer to each other until only two inches of space separates them. You can feel the animosity building.
Lara's story is the most spiritual and emotional as she contemplates her estranged relationship with her father. Payant knows that forgiveness is not easily attainable, so watching her stumble over her words and feelings is to be expected. Einarsdottir breaks your heart in a sensitive performance full of rancor and sorrow.
April Skies takes you to these beautiful places and ensures that every shot says more about a character and their state of mind. For example, an arc shot is used to show that one of the leads doesn't know how to feel while reading an emotionally charged letter. With one narrative adopting the fourth wall device and another taking place in nature as opposed to a city, each tale has its own aesthetics and deviations. Furthermore, all three stories have potent bursts of emotion. That said, the fourth wall breaks are particularly exhausting.
April Skies is a formally striking, exquisitely acted, and thematically strong drama spanning three countries and three languages. "I had to protect myself. So, I built a wall around me," says Lara. But Payant reassures us that we can always find a way out of the shell we've built for ourselves.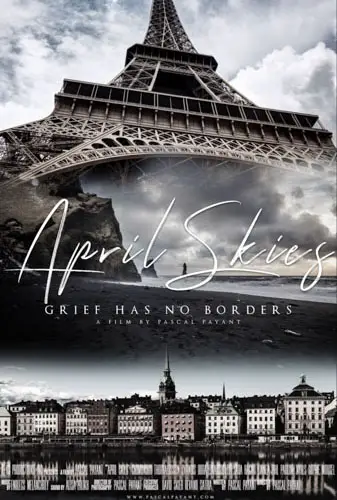 "…formally striking, exquisitely acted, and thematically strong..."