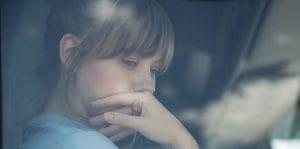 The debut film from Czech director Beata Parkanová, Moments (Original title Chvilky) is an artful study in the frustration of losing one's self to the expectations of others. A young woman, Anežka (Jenovéfa Boková), finds that her time is not her own, her body is not her own, and she is surrounded by people who all feel free to impose their will on how she should behave and who she should be, to serve their needs while ignoring her own.
Anežka likes to please. Her Grandmother insists she try on her old clothes from when she was was young. She then notes that while Anežka is pretty, she'll never be the beauty that Grandmother was, but that she does have nice breasts.
Her mother spends an entire visit bemoaning why Anežka doesn't visit more. Her father asks her to help do manual labor chopping down trees in the woods, pointing out that he thinks she's gotten a bit thick around the middle. Her boyfriend is a married trucker who stops off to see her for a shag in the sleeping compartment of his truck. She goes to a show to interview a singer and finds herself in the back of his van having sex with him instead of interviewing him, less because she wanted to than because she just didn't say no. Everything in her life is about anything but herself and what she wants, except for her love of music. We only see her truly expressing herself when playing the violin.
"…she is surrounded by people who all feel free to impose their will on how she should behave…"
Cycling through the seasons, we learn that Anežka is so focused outside herself that she cannot even articulate her own pain. She feels and lives with a grinding angst as she navigates a life that is not taking her where she wants to go, because she does not know where she wants to go.
The lush Czech scenery is beautifully photographed and Boková carries the film gracefully as Anežka. She is a beautiful young woman, unsure of herself, of her own place in the world. All she needs to know is at her fingertips, and the film leaves us hopeful that she will soon find perspective and make her own way, for herself, in the beautiful world that surrounds her.
This film is a gem, a gently powerful look at a transitional moment in life.
Moments (2018) Written and directed by Beata Parkanová. Starring Jenovéfa Boková, Martin Finger, Alena Mihulová. Moments screened at the 2019 San Francisco International Film Festival.
8 out of 10