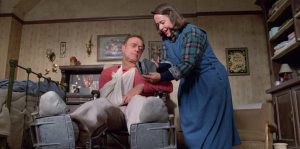 TCM CLASSIC FILM FESTIVAL 2021 REVIEW! We have all come across the infamous scene of Kathy Bates and the sledgehammer. That iconic, squeamish scene comes from none other than Rob Reiner's Misery. Starring James Caan and Kathy Bates, it originally premiered in November of 1990. I was a toddler when the film came out in theaters, so I did not watch it upon its initial release. And since it's a 31-year-old movie, I may drop some spoilers here and there, so be warned.
The movie is based on the Stephen King novel of the same name, and it follows author Paul Sheldon (Caan), who is rescued from a car crash by a fan, Annie Wilkes (Bates). Annie takes Paul under her care due to a severe snowstorm causing it to be virtually impossible to take Sheldon to a hospital. The writer comes to realize that his number one fan is not entirely who she says she is.
Annie Wilkes turns out to be obsessive, to say the least. She believes that she knows Paul's characters more than he does. After reading the transcript of his upcoming novel, Annie begins to lose it over the way the story ends — something I'm sure many King fans can relate to. As Paul is recovering from his critical injuries, Annie has him write a new novel in which Annie's input really matters. Pleasing her is no easy task, as she gets enraged when the story does not meet her expectations. Until the story is to her liking, Paul is not free to leave.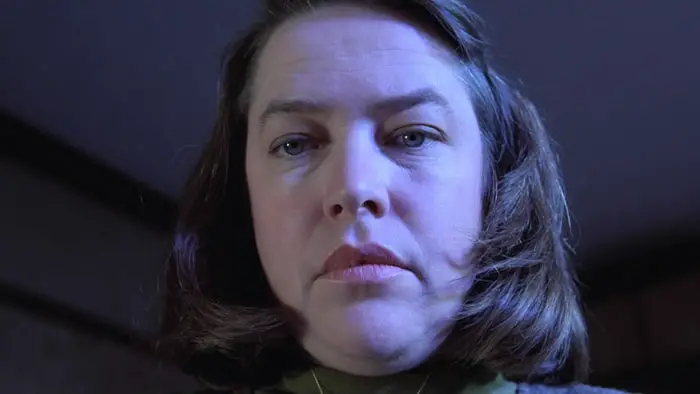 "Until the story is to her liking, Paul is not free to leave."
Due to Misery being a King novel, it was easy to see the distinct style playing out on screen. We have a snowstorm creating isolation playing heavily into the plot. Two works of King's that the film reminded me of are The Shining and Secret Window. It is commonly known that King often has his main characters be authors. Talk about the phrase "write what you know." Yes, he may have written some terrible endings to his novels, but the journey is where he always reels you in.
Even though I'm a huge Stephen King fan, I have not read the novel Misery, so I can't go much into whether or not it stayed faithful to the novel, but what I can say is that the movie is the definition of psychological thriller. The entire film is a human chess match. Paul tries to plan his escape only to find that every idea he has will be countered by Annie, who always seems to be one move ahead. This back and forth mind game makes the audience anxious. But as I watch the plot of an obsessive fan being enraged with how a story doesn't meet expectations, it makes me curious if King's experiences with fans and reviews helped inspire the story.
When it comes to the performances of James Caan and Kathy Bates, even as early as 1990, these two actors were already known for their superb acting skills. This movie shows just how great they are. In a story where there are practically only two roles and one location, both actors make you feel that you are in the room watching this psychotic episode unfold in front of your own eyes.
Even 31 years later, Misery still holds up and is critically acclaimed with good reason. It is hard to come by psychological thrillers like this nowadays — a film that makes you feel the anxiety and horror that the character is facing. Such movies are few and far between.
Misery screened as part of the 2021 TCM Classic Film Festival.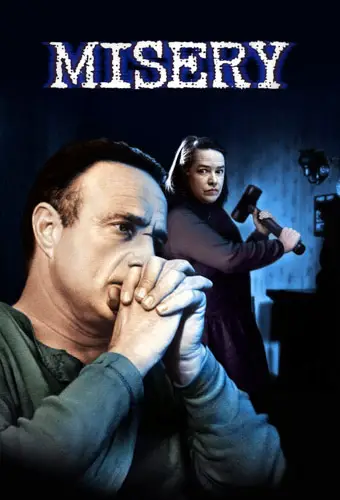 "…still holds up and is critically acclaimed with good reason."