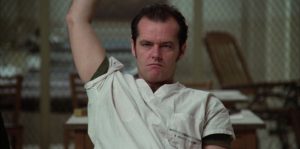 TCM CLASSIC FILM FESTIVAL 2021 REVIEW! Synopsis: A criminal pleads insanity and is admitted to a mental institution, where he rebels against the oppressive nurse and rallies up the scared patients.
One Flew Over the Cuckoo's Nest, the greatest anti-establishment film ever made, reflected a significant paradigm shift, not only in filmmaking but in global society. After years of protests and millions of people dead, the U.S. finally absconded from Vietnam with her head bowed in embarrassment. Amongst others, The Black Panther Party was alive and well. What better time to adapt Ken Kesey's controversial novel – a scathing critique of psychiatry and officialdom, deemed a pornographic glorification of violence and banned from many classrooms – and expand upon its themes to reflect the tumultuous/auspicious times?
Czechoslovakian filmmaker Miloš Forman was brought in to provide an outsider's perspective and imbue the film with his own experience growing up under the oppressive communist regime. He refused to give in to studio expectations nor Ken Kesey's squabbles over creative differences, assembling a like-minded crew that was crucial to realizing his vision. After the release of One Flew Over the Cuckoo's Nest, the filmmaker instantly joined the rank of auteurs-on-the-rise, like Steven Spielberg, Francis Ford Coppola, Brian De Palma, Alan J. Pakula, and Martin Scorsese, each with their own distinct style, but united by the passion of their respective visions and extraordinary critical and box-office success.
There's probably not a single sequence in One Flew Over the Cuckoo's Nest that isn't perfectly calibrated. It's so rare for a film to achieve that ethereal sort of synergy, wherein all the elements are exactly where they should be, yet nothing feels forced, predictable, or overly dramatized. I must've seen this dozens of times, and each time my heart breaks, soars, and fills with anger. Who can forget Brad Dourif's tragic Billy Babbit? From the basketball sequence to the "stealing the boat" moment to the final confrontation, the film is cinematic perfection, through and through.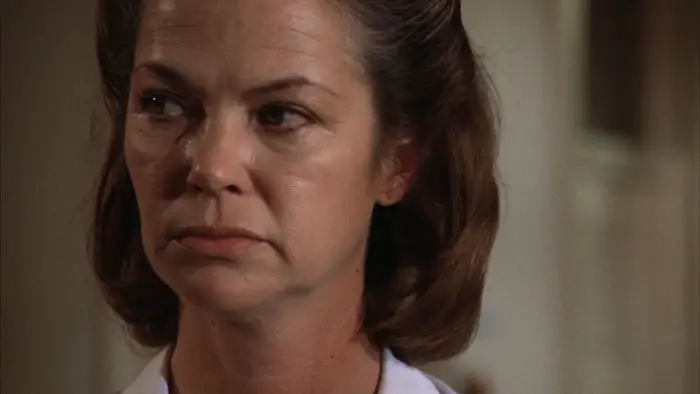 "A criminal pleads insanity and is admitted to a mental institution…"
R.P. McMurphy, as played by Nicholson, has become an iconic character. It's the definition of a livewire performance, the devilish young man exuding pure energy – he's a provocateur and a sweetheart, a cynic and a romantic. Nicholson deservedly won the Academy Award, after which his already successful career took off, and the rest is history. His psychological battle with the steel-cold Nurse Ratched is nerve-shredding to this day; she still towers over the majority of celluloid villains. Louise Fletcher's Oscar-winning performance was so convincing that audiences couldn't see her as anything else, which, unlike her male co-star, led to a somewhat troubled career of typecasting.
In addition to the two leads bagging the golden statuette, One Flew Over the Cuckoo's Nest won the Academy Award in all the major categories: Best Picture, Director, and Screenplay, and was nominated for four more. As for the majority of the other players involved, the film signified massive career boosts. Forman went on to make extraordinary films like Amadeus and The People vs. Larry Flynt. Producer Michael Douglas became an international film star soon after. Then there's Christopher Lloyd, Danny DeVito, and screenwriter Bo Goldman, who later penned Scent of a Woman.
Forman's classic has not aged one bit. In fact, One Flew Over The Cuckoo's Nest has become more relevant than ever, considering today's tumultuous climate. Whether it's the #MeToo movement or #BlackLivesMatter, folks are rebelling against oppressive regimes, demanding change. Some of them are silenced, like R.P. McMurphy. Others rip out the sink and smash it through the wall of bureaucracy, attaining their much-earned freedom. The battle goes on.
One Flew Over The Cuckoo's Nest screened as part of the 2021 TCM Classic Film Festival.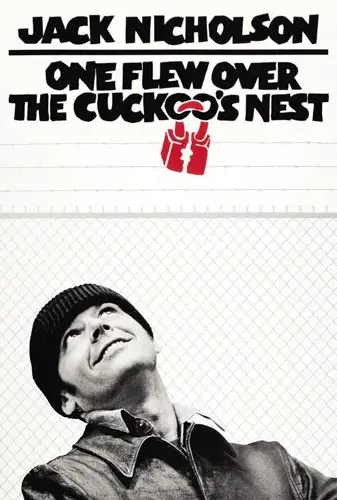 "…Forman's classic has not aged one bit."