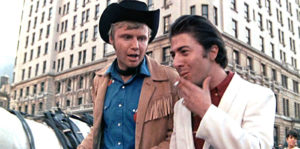 With the Oscars just around the corner, the Film Threat writers review films during a time when the Best Picture was actually the Best Picture.
1969 ended up being the year of the rubber rat when director John Schlesinger's X-rated Midnight Cowboy won the Best Picture Oscar. The rubber rat appears in a diner scene when a starving male prostitute sits down at a woman and her son's table, begging for their soup crackers. While the prostitute pours ketchup on the Saltines, the woman dressed in black pulls out a rubber rat and rubs it all over her son's face to his delight. It is a weird scene with bizarre people from a strange time. But weird won big, showing that it was now ingrained in pop culture, never to leave.
Written by Waldo Salt, the movie starts with a white screen that pulls out to reveal a rural Texas drive-in. We then cut to a naked cowboy in the shower. Joe Buck (Jon Voight) is not showing up for his dishwashing job today because he is taking a bus from Texas to New York City. Joe plans to make a fortune as a c**k for hire, renting his happy hammer out to wealthy women. However, man-whoring doesn't come easy, as he finds the paying-men-for-sex market woefully underdeveloped. But, his fate changes when he runs into Rico "Ratso" Rizzo (Dustin Hoffman) on the streets, who scrapes by as a petty criminal.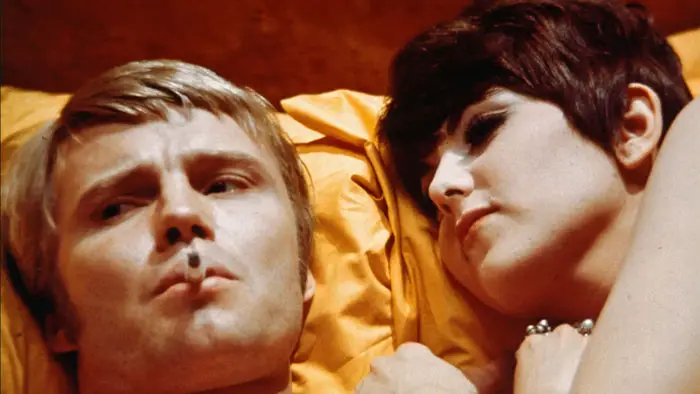 "Joe plans to make a fortune as a c**k for hire…"
Ratso takes money from Joe in exchange for introducing him to a pimp for guys. Unfortunately, it turns out to be a scam. Joe, haunted by ugly sexual flashbacks from his past, starts selling himself to men but ends up getting ripped off. He re-teams up with Ratso, who allows Joe to move into the abandoned building he squats in. Ratso and Joe struggle to make his male prostitute dream a reality on the nightmare fringes of New York.
Midnight Cowboy was a landmark moment in Queer cinema history. Here's an award-winning film that openly dealt with homosexuality by a gay director adapted from a novel by James Leo Herlihy, a gay author. The brilliant performances from Voight and Hoffman intertwine into one of the most nuanced depictions of a latent homosexual romance in 20th-century cinema.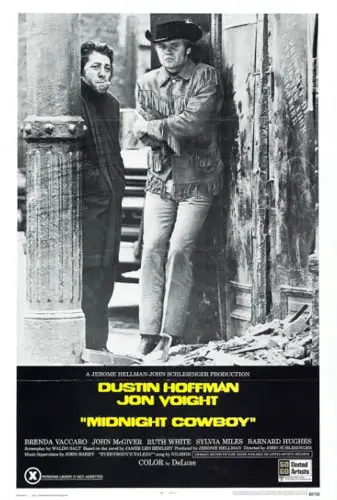 "…weird won big, showing that it was now ingrained in pop culture..."