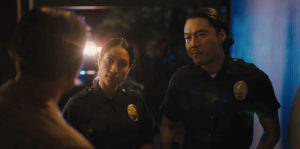 Prepare to explore the black and blueprints of some dangerous architecture in director Sonja O'Hara's eerie feature Mid-Century, written by Mike Stern. The prologue, set in the early 1960s, shows famous architect Frederick Banner (Stephen Lang) sitting in his car in a quiet neighborhood, admiring one of the famous modern houses he designed. Anthony (James Gaudioso) arrives home, the same place Frederick is gazing at, from work in his new Thunderbird, which Banner also admires. After letting Banner pester him over how much Anthony's wife Joanne (Ellen Toland) must love the house, Anthony excuses himself as he has a present for her. When Joanne returns to the living room in the fancy underwear Anthony bought her, she finds Banner grinning fiendishly. She then sees Anthony hanging dead from the rafters.
Six decades later, Dr. Alice Dodgeson (Chelsea Gilligan) reaches out to Eldridge Banner (Mike Stern) to rent the Banner house for a few days as she's looking to switch hospitals. However, her partner, Tom Levin (Shane West), has reservations about leaving the business he built up in the city to move out to the suburbs. However, he is thrilled by Alice scoring a stay at the Banner House, as he's an architect himself. Tom has been trying to emulate Banner's mid-century design achievements in a project he is working on for Beverly Gordon (Vanessa Williams).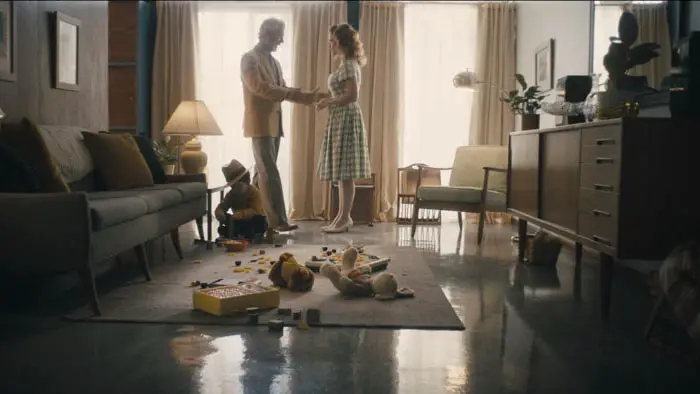 "…the people around Tom and Alice begin to get murdered…"
As Alice works her first test shift taking care of COVID patients, Tom calls his assistant, Hannah (Emmy Perry), back to the office to look up Banner in an old book. It goes into Banner's odd story, as well as the secret society he formed with his friend Emil (Bruce Dern), whose sinister paintings hang all over the house. While Tom is on the phone, dark shapes move in the background. He glimpses a red-headed woman in a 60s dress, Marie (Sarah Hay), who vanishes into thin air before him. Then the people around Tom and Alice begin to get murdered, giving rise to a horrifying truth about the Banner, Emil's paintings, and how Alice is connected to it all.
Mid-Century had me at the title, as I am all about that middle-20th century decor style. I am devoted to what John Waters refers to as "lamp shade" movies, films made long enough ago to where their mid-century set decorations are ripe and stupendous (Hey! That's a nice lamp shade back there). This horror-thriller keeps the ravenous art direction hounds fed with sumptuous examples of the retro style throughout. However, if it is a "lampshade" flick, the lamp will come crashing into the back of your head when you aren't looking. This is thanks to some unexpected turns Stern included in the story.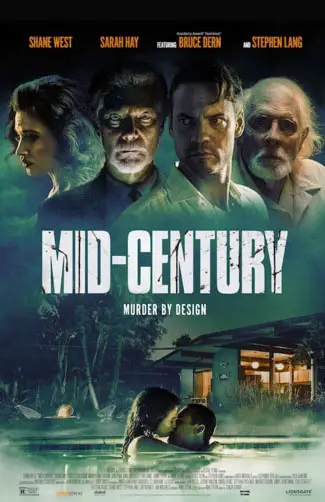 "…has enough twists to spin your head around some, Linda Blair style."