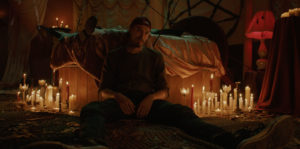 As horror evolves to fit the cultural zeitgeist of the times, the found footage subgenre has morphed from its last incarnation of security-cam horrors of Paranormal Activity to the influencer/vlogosphere. Recently, we've witnessed a number of these kinds of films, including Deadstream and Spree. We've also had a few horror entries that aren't found footage but are about influencers, such as Shook, Sissy, and Making Monsters. Considering the average in-your-face personalities that populate the YouTube/TikTok universes, they make for easy targets for comeuppance from any harmful elements that come their way. Co-writer/director/star Jeff Ryan goes to considerable lengths to build an authentic world in his spin on the found footage/influencer realm of horror, Mean Spirited.
Ryan plays Bryce, a now-famous childhood friend of vlogger "Amazing Andy," a prank-laden show in which its host Andy (Will Madden) feels compelled to maintain his in-your-face persona at all costs. Bryce has moved on to mainstream success as the television superhero "Thunderman." To celebrate his channel's 35k followers, Andy corrals a team to visit former co-host Bryce's posh new home situated in the Pocono Mountains. Along for the ride are videographer Joey (Maria DeCotis), obnoxious party boy Dew (Will Martin), the sweetly dorky Tom (Daniel Rashid), and Tom's wannabe-actress girlfriend Nikki (Michelle Veintimilla).
Andy intends to use the visit to document Bryce as a Hollywood sell-out to his audience, while Bryce seems to have intentions of his own that are not clear at first. But blood-stained postcards, tell-tale ouija boards, and a series of grave accidents all threaten to disrupt expectations. One by one, the participants begin to exhibit strange behavior, with Ryan carefully choreographing everything through a mix of his edited "show material" as well as behind-the-scenes moments that drop breadcrumbs for viewers throughout.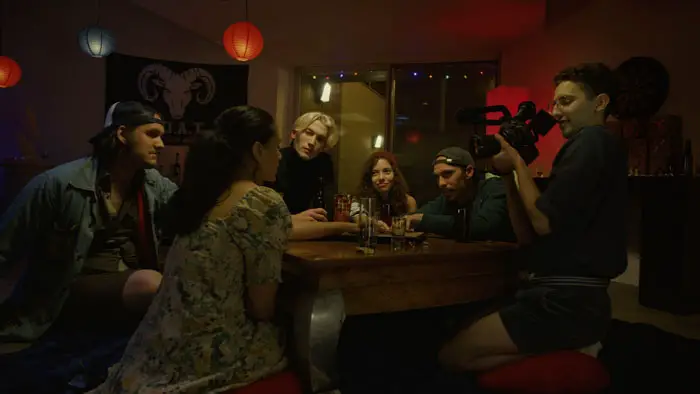 "…blood-stained postcards, tell-tale ouija boards, and a series of grave accidents…"
The care and consideration Ryan and co-writer Joe Adams take in establishing the characters as a funny, functioning "team" are key to the success of Mean Spirited. All the over-edited, attention-deficit footage from Byrce's show feels legit. It's particularly effective when the main duo's prankster personas must confront darker elements afoot. Thankfully, the film has much more on its mind than goofs and gore, with plenty to say about the price of fame and the utter need for attention.
Mean Spirited is the follow-up to Ryan's fast and funny Mass Hysteria in 2019, which follows a group of Salem Witch re-enactors and also finds the laughter within slaughter. This film is not only more polished on a technical level but is a giant leap forward in storytelling and character development as well. The director finds more of a balance between horror and drama, amping up the stakes.
Mean Spirited is a smart, savvy entry into the found footage genre. It will no doubt motivate an audience to "smash that subscribe button" on Ryan's future filmmaking endeavors.