While I'm not necessarily a fan of anime, I'd consider myself an admirer of anime. In high school, I was a fan of Robotech, but never really sat down and watched a tradition film until seeing Hayao Miyazaki's Spirited Away. I don't remember the plot, but that was one weird movie. Then my kid became obsessed with Ponyo and The Secret Life of Arietty. I suppose as Film Threat's resident Asian, I should be a little more knowledgeable and appreciative of Anime, and you would be mildly racist for agreeing with that. I'm not. So, can you teach an old dog new tricks?
From screenwriter Mari Okada comes his directorial debut, Maquia: When the Promised Flower Blooms, the story of motherhood, adolescents, racial identity, and the environment. Maquia (Manaka Iwami) is a Lolph, legendary, immortals, who spend their days on a loom weaving "Hibiol" and valuable piece of cloth, where seemingly the history of humanity is woven together. The vertical strands in the loom represent time and the horizontal threads represent the individual lives. A symbolic record of history, if you will.
Maquia is one of many Lolphs. Her appearance and maturity are that of an adolescent girl. Her mentor/best friend is Leilia (Ai Kayano). Known as the "Clan of the Separated," the lolphs never venture into the outside world. Leila warns Maqia that loneliness comes to those who fall in love with an outsider.
Meanwhile, there is the Mezarte clan, who keep the also legendary dragons known as Renata. Having encaged every known Renata, the Merzarte are the most powerful clan in the land. But the Renata are on the verge of extinction, and when the last one dies the Merzarte will lose its military might. It is decided by the clan's leader to invade the Lolphs, capture its women, and produce an army immortal Merzarte.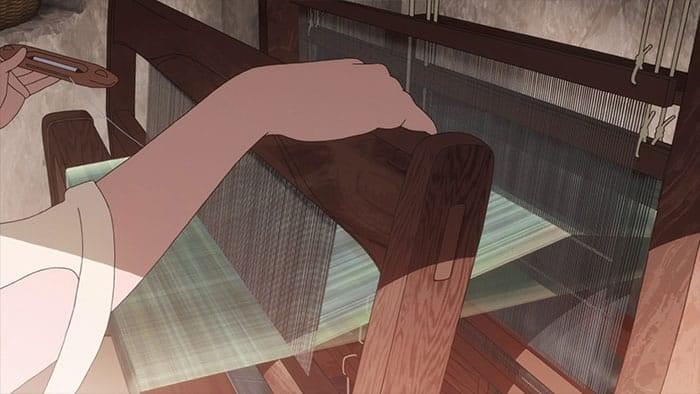 "…legendary, immortals, who spend their days on a loom weaving 'Hibiol'…where seemingly the history of humanity is woven together."
The invasion of the Lolph is successful. Leilia is captured and betrothed to head knight, Izor (Tomokazu Sugita) for immediate reproduction and Medmel (Misaki Kuno) is born. For an extra dose of torture, Leilia is imprisoned, never to be a mother to Medmel.
During the invasion, Maquia is grabbed by a Renata and flown hundreds of miles from her homeland. Alone and afraid, Maquia comes across a local villager in the forest, who is holding the baby of a woman, who died giving birth. The man feels the baby's only destiny is to abandon the infant, so he can join her mother in the afterlife. Showing compassion, Maquia takes it upon herself to the infant's mother and names him Ariel (Miyu Irino).
So, your standard Middle-Earthian tale of warring factions, elves, and dragons. In the spirit of anime, we embark on a long, almost two-hour explorations of issues of immorality, parenting, misogyny, and racism. All told in the beautiful hand-drawn animation we come to expect from Anime and told in the slow-paced, deep-dive storying telling we expect from Anime…with a few twists.
The most notable issue tackled in Maquia: When the Promised Flower Blooms is immortality. Many a romantic tale has been told of the immortal lead falling in love with the mortal and the moment comes to a head when the mortal becomes too old for the immortal.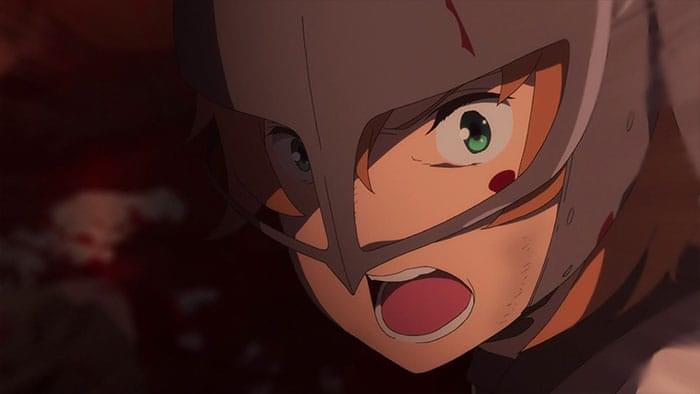 "…a personal story about motherhood from Mari Okada."
The twist here comes with an immortal, adolescent parent raises a mortal child, but doesn't age herself. The film moves pretty quickly watching Ariel grow from an infant to toddler, toddler to tween, and tween to adolescent. Director Okada is not afraid to "go there" addressing the young adolescent boy's feelings for his young adolescent mother. Yeah, a little creepy, but you have to admire Okada's chutzpah. Ariel's twist comes in Leilia's early warning about the loneliness of falling in love with an outsider as Maquia falls in love as the dedicated, devoted, but immortal, mother to Ariel.
There's a bigger world, a bigger story going on in Maquia: When the Promised Flower Blooms. The dying Renata species, the advancement of military weapons, the connections of mothers-and-children are addressed in the numerous side stories filling this very long film.
Admittedly, the long, deep, storytelling in anime is something to get used to. For me, I find myself having to rewire the way I approach this style of filmmaking. I could easily find myself dismissing these stories strangely told stories and miss out on a beautiful tale, simply because it is different. If you're not a fan of anime, give it try. Be open and patient.
Lastly, there's a push today for films and stories from the perspective of underrepresented groups. Maquia: When the Promised Flower Blooms is set in a world traditionally run by men but is clearly a personal story about motherhood from Mari Okada.
Maquia: When the Promised Flower Blooms (2018) Written and directed by Mari Okada. Starring Manaka Iwami, Miyu Irino, Yôko Hikasa, Ai Kayano, Misaki Kuno.
7 out of 10 stars