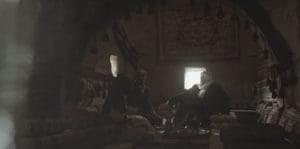 As a memorial to the 100th anniversary of Armenian Genocide, the film Map of Salvation, director Aram Shahbazyan tells the story of five women, who confronted this genocide head on and are virtually the only witnesses to the first of many great atrocities of the early 20th Century. Narrated by historian Svante Lundgren, we are taken to the streets and locales of this horrific event.
In April 1915, the Ottoman Empire began to systematically gather and exterminate over 1.5 million Armenians from Constantinople, the region we now know as Syria and Turkey. Those that weren't killed would be exiled in a march through the Syrian Desert.
Five women originating from various parts of Europe and against the advice of their families became Protestant missionaries to the Armenian people. These women were: Maria Jacobsen and Karen Jeppe from Denmark; Bodil Biørn from Norway; Alma Johansson from Sweeden, and Anna Hedvig Büll from Estonia. Each woman heard a call from God to build orphanages, health centers, and provide refuge for the Armenian people.
"Each woman heard a call from God to build orphanages, health centers, and provide refuge for the Armenian people."
Historian Lundgren provides the historical context of the genocide. He visits the hometowns of the women and researched the letters and papers they wrote. In a way, these letters are the only accurate account of the massacre, as even today, the Turkish government will not recognize the atrocities that took place. Lundgren then journeys to the scene of the crimes in Syria and Turkey, walking the streets as they stand today and in many cases the city streets that no longer stand at all.
The focus on the film are these five women. They lived at a time when to them God's voice was loud, and His direction was evident in their lives. With no cell phone for Tweeting and communication channels unreliable, their mission was not to become famous journalists, their purpose was to save lives and as many as humanly possible. None of these women would ever have children on their own, but many were considered the "Mothers of Armenia."
The genocide, for the most part, ended with World War I and source material, mainly photos and films, was scarce. Director Shahbazyan does an admirable job piecing together essentially lectures from Lundgren with informative visuals, photos from the era, dramatic music and sound effects during Lundgren's walks, and dramatizations of actresses portraying the missionaries. He stitches them together to keep the narrative visually appealing in a process that was labor intensive and with a small budget. This is guerilla filmmaking.
"…a massive dump of facts that's laid out at a furious speed."
Map of Salvation is a historical documentary presented like the academic films I watched in high school. A prominent historian guides us through a mountain of facts, stories, and readings. When I say mountain, I mean mountain. There is a massive dump of facts that's laid out at a furious speed. I, for one, knew nothing of the genocide and much of the first part of the documentary was me, just trying to understand the map of the region and keep track of names and faces as best I could. If you know nothing about the event, you're going to have to work to keep up. It's easy to get lost, if you're not paying attention.
Go see Map of Salvation if you want a historical and academic account of the Armenian Genocide and the women who were there to witness it and save lives. Also see it because no matter how enlightened we think we are, "Those who do not learn history are doomed to repeat it" (George Santayana).
Map of Salvation (2015) Directed by Aram Shahbazyan. Featuring Svante Lundgren. Map of Salvation screened at the 2019 Irvine International Film Festival.
7 out of 10 stars