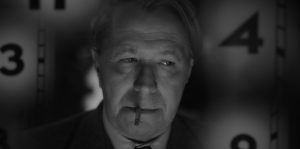 David Fincher is one of the greatest film directors of all time. His meticulous approach – hundreds of takes, attention to every minute detail, subtle but cunning use of special effects – reveals a man influenced by decades of cinema. So it comes as no surprise that his latest near-masterpiece, Mank, traces a period in the life of one of cinema's greatest screenwriters, Herman J. Mankiewicz, the man behind Orson Welles' Citizen Kane. Great minds, after all…
What does come as a surprise, somewhat, is Fincher's departure from his clinical precision; he adopts a looser approach here, no less precise, but much warmer than, say, the steel-blue, fierce indictment that is The Social Network. "Photographed in Hi-Dynamic Range" to approximate the look and feel of a late-1930's feature, Mank is incredibly dense, lush, and extravagant. Hollywood of that era is seen (in glorious black and white) through the eyes of Mankiewicz (Gary Oldman), a savage literary critic and alcoholic screenwriter, on the verge of finishing what would eventually end up the most coveted film of all time.
"…traces a period in the life of one of cinema's greatest screenwriters, Herman J. Mankiewicz, the man behind Orson Welles's Citizen Kane."
Mank is in bed, his leg broken, dictating and scribbling his script. He's cared for by Rita Alexander (Lily Collins), with John Houseman (Sam Troughton) attempting to guide his stream of consciousness and pacify his emotional outbursts. There's the occasional call from Orson Welles (Tom Burke) himself. Fincher fluidly switches between past and present. The flashbacks reveal crucial episodes of Mank's life as the man navigates his way through the glory and glamour and corruption and backstabbing of Old Hollywood. Just when Mank thinks he's washed up, lost amidst all the turmoil, the realization that he may be writing one of the best scripts ever strikes him.
Fincher subtly replicates the circuitous, episodic structure of Citizen Kane and even acknowledges it in one scene. He fills Mank with treats, bound to resonate with cinephiles particularly: Louis B. Mayer's (Arliss Howard) three cardinal rules of working at his studio; Mayer's address to the depression-stricken studio crew ("Not even the most disgraceful thing I've seen," Mank comments); Mayer's birthday, where things like communism, socialism, Nazis, and concentration camps are touched upon ("You don't turn your back on a market as big as Germany"); Mank and Marion Davies (Amanda Seyfried) strolling through Mayers' garden, filled with labyrinthine paths, elephants and giraffes; Mank showing up wasted at a dinner towards the end and delivering a speech for the ages. The list goes on.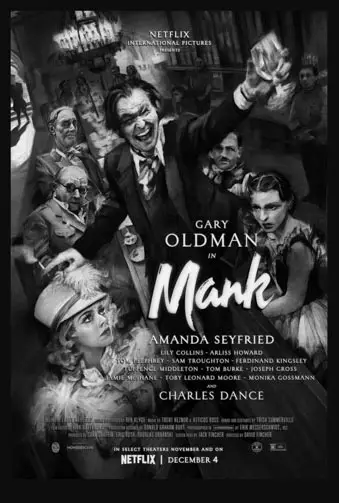 "…Fincher pays tremendous ode to the era and figure that inspired him."