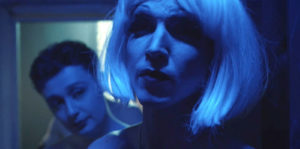 NOW ON VOD! Dreariness puts on some fishnets in writer-director Hugo Andre's tepid cross-dressing drama Makeup. Sacha (Hugo Andre) is a former French chef on the skids who works as a restaurant blogger. He answers an ad for a room offered by corporate worker Dan (co-writer Will Masheter). Sacha is painfully introverted. When he isn't scowling at cutlery cleanliness, he prefers to be alone in his room.
Shortly after moving in, Sacha stumbles upon Dan enjoying a glass of wine while in drag. Dan confides that he has been privately cross-dressing for years. He hoped his wife would understand, but she took their child and left him. Dan invites Sacha to his public drag debut at a midnight cabaret. Sacha politely declines as he will be busy hiding in his room all night. Unfortunately, Dan's big night ends in a drag disaster. To make matters worse, some a*****e co-workers from his office were there and recorded the lipstick calamity on their phones.
The pace starts and stays at a standstill for the first half of Makeup. This is not a slow burn; it is wet kindling. Boring, boring, boring, boring. Andre insists on applying panoramic detail to the dullest acts of minutiae. Nothing of any importance occurs in the first act at all. The director might as well have left the lens cap on throughout the setup. The story only begins to twitch occasionally in the second act as we trudge through the aftermath of the male burlesque performance. During this time, the role of Sacha is used sparingly as comic relief. Unfortunately, he just isn't funny. Andre needs to study the work of Albert Brooks to learn how to draw humor from tension.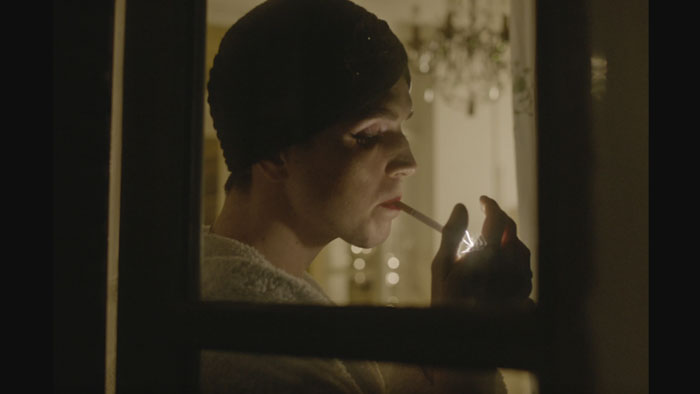 "…Sacha stumbles upon Dan enjoying a glass of wine while in drag."
Only in the third act does the film loosen up with everyone smoking a big fat joint. From here on, the movie finally becomes watchable. However, it is too late to save the ship from sinking. There is some fun to be had on the way to a cold watery grave. As excruciating as the ramp-up is, the finale made me smile. Whether that was relief from the pain stopping is debatable.
While the foundation of the screenplay is in ruins, the performances are worthwhile. Masheter is remarkable in his ability to project butch when protecting himself at work and then explode into femme in private. His characterization catches a rare complexity and rings true. Andre's acting really can only be appreciated near the end, when he slips an extra dimension onto the single one he paddles through the majority of the runtime. He obviously can act but needs to write himself some better material.
Makeup feels like short that has been padded out into a feature, as we have 15% fun to an 85% useless ratio. As uneven as it is, it'll hold your attention until the end. It's like an off-brand bag of nacho tortilla chips that barely have any cheese flavor, but you eat them anyway. After a while, you just keep chewing in order to finish.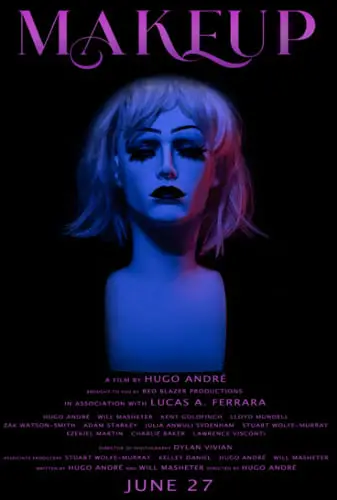 "…it'll hold your attention until the end."